Eco-Friendly Event Swag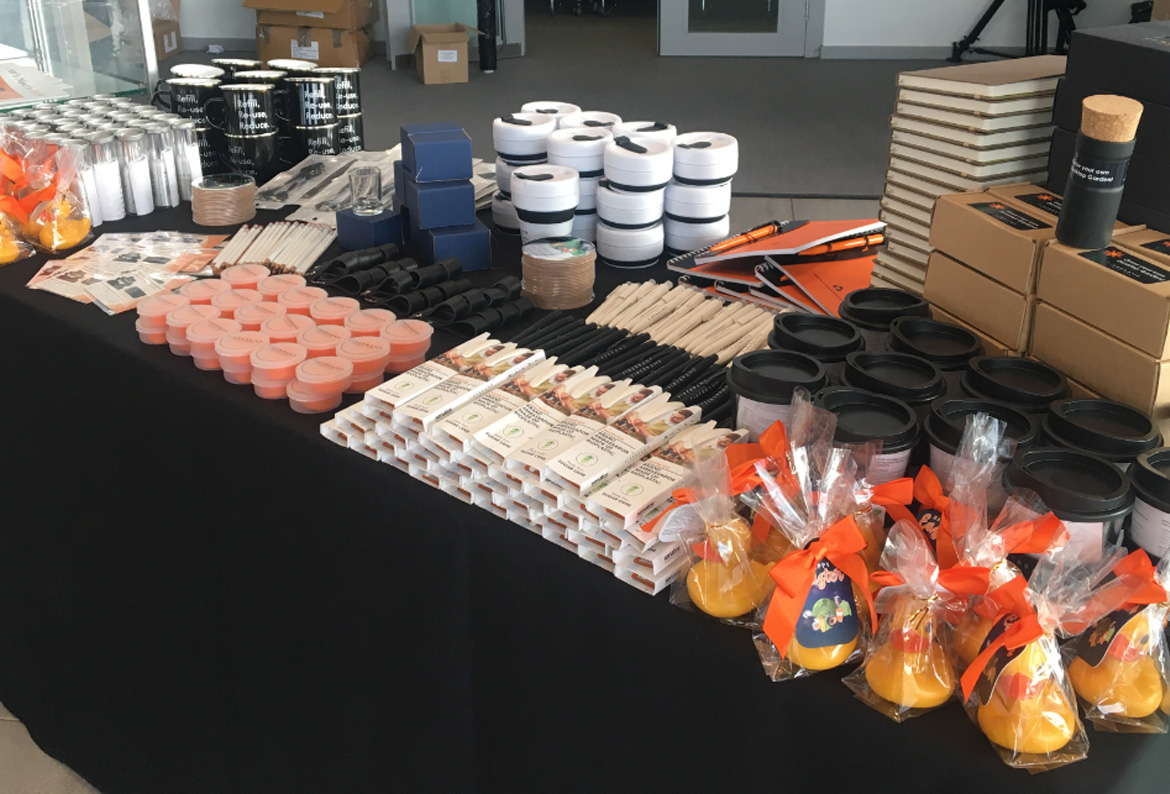 Eco-Friendly Event Swag for Exhibitions & Conferences
Are you planning an exhibition or conference and are looking for branded eco-friendly event swag? In this blog post, we're sharing the different product areas to consider for your events.
Identification
If you are at an exhibition, you want people to find you easily. A great way to get your brand's name seen is to use printed roller banners. You can use these to advertise where your stand is or to share your marketing message, your services offered or the products you sell.
Other things to consider are lanyards for ID cards or name badges. If you are meeting attendees that you've dealt with virtually, having an easy way for them to identify you is the perfect way of quickly putting a name to a face. You can then make conversation with them and talk them through your display.
We have lanyards available in various sustainable materials. These include RPET, bamboo and PLA. We also have ID cards in rHIPS.b or recycled plastic. As for the name badges, we have reusable options available. All you need to do is print out new names to go into the windows. Name badges are available in metal, bamboo, and many other materials. All relevant information about materials can be found on our sustainability page.
Health & Safety
You can ensure your team are safe at your events with PPE. We have hand sanitisers available in recyclable aluminium bottles. These can even be personalised with individual names. Hand sanitisers also make great giveaways!
Sustainable, Eco-Friendly Event Swag Bags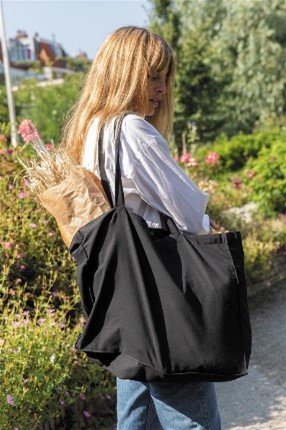 Registrants pick up many giveaways at events. This often includes several bags. Picking the perfect bag is important. You want to choose one that is big and sturdy enough to be the bag that the other little bags are put into. This is a great way of getting your brand's name and logo seen by other attendees around the event space.
The bag that we would recommend would be the Impact AWARE Recycled Cotton Shopper. It's a 145g bag and can carry all of your important essentials. The tote bag features a 14cm gusset for extra storage. The bag is embedded with the AWARE tracer technology. This technology guarantees the use of genuine recycled fabric materials. In this case, it's 70% cotton and 30% RPET. With Impact, water reduction claims are also guaranteed. If you choose this item, you save 860 litres of water. With the focus on water, 2% of proceeds of each Impact item sold will be donated to Water.org. Find out more about the Impact Collection on our blog.
What merchandise works well in an eco-friendly event swag bag?
Merchandise is versatile and the options you may consider will be dependant on your target audience and the industry you are in. However, there are several popular items across various sectors that work well as event swag.
Drinkware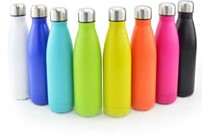 Reusable bottles or reusable coffee cups are always popular options. One of our best-selling branded water bottles is the Smart Tide Bottle. It's a metal bottle which can be Pantone Matched to reflect your brand's colour. This is a great way of taking a popular product and making it look bespoke. There are also standard colours available as the MOQ for Pantone Matching is 500 units. The Smart Tide Bottle is a double walled vacuum insulated travel bottle. It will keep water cold for up to 24 hours and hot drinks hot for up to 18 hours, which is impressive and great for on the go! It has a generous 500ml capacity and is also suitable for juice drinks.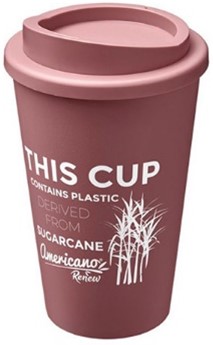 One of our popular reusable coffee cup options is the Americano range. The Americano Renew is a sustainable option. It's made of 75% PP and 25% Sugarcane (PLA), making it 100% recyclable once it reaches it's end of life. It has a 350ml capacity, perfect for taking coffee on the go. It's BPA free, dishwasher and microwave safe. Plus, it's UK made, meaning it's on a fast turnaround and uses no air miles when shipped to another UK address. To keep the product safe in transit, these are packaged in a home compostable bag.
Charging Cables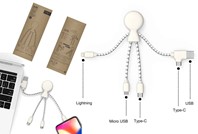 Technology is a product area that everyone can make use of. Items such as charging cables, speakers, earbuds and wireless chargers are always popular. We have a range of eco-friendly charging cables available now. One of our best-selling cables is the Xoopar Mr Bio. He's made of ABS with an additive that helps him to biodegrade at the end of his life. He also has legs made of Dupont Tyvek. The Mr Bio has all your charging requirements on one cable. He is perfect for plugging into a laptop, car or powerbank. If you'd like a longer cable, Mr Bio is also available in Wheat, with a long leg! He is packed in an FSC pouch which gives the finishing touches to a sustainable gift. Also, as technology is one of those product areas that people get a lot of use out of, your logo stays with them for a long time!
Confectionery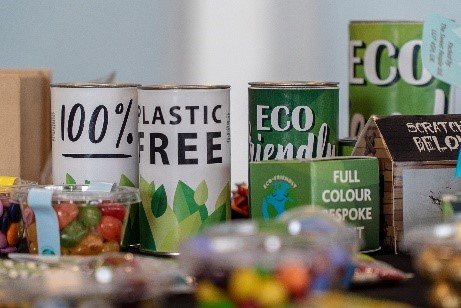 As we learnt at our own events, attendees love to take home sweet treats! Fortunately, we have confectionery available in compostable and recyclable packaging. The sweet fillings available include The Jelly Bean Factory Jelly Beans, Skittles, Vegan Bears, Chocolate, Shortbread, Mint Imperials, Chocolate Beanies and much more. What we love about confectionery is we can make the product look bespoke to your brand. For example, our logo is black and orange, so we sent out an eco-friendly info card with black and orange Jelly Beans. The packaging available varies from boxes, houses, vans, tubes, compostable pots and pouches.
Stationery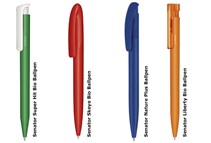 Pens and notebooks are popular choices for event giveaways. We have a range of Senator bio-based pens available. These are made with PLA that has been derived from sugarcane. Senator uses green electricity to produce their pens and are a carbon neutral company. These pens all have an impressive ink capacity, some of which can write up to 5000m. Plus, another selling point is that when the ink runs out, your recipient doesn't have to throw the pen away. Senator offer a free refill service to keep the pen writing for longer.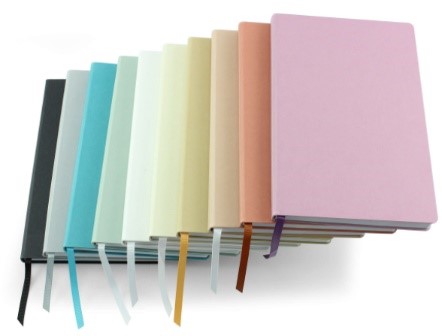 We have many notebook options available. However, a current favourite and best-seller is the Cafeco A5 Notebook. It's made of post-consumer waste and coffee cups. So, it's made from 100% recycled materials. We can go the extra step further and remove the elastic band and ribbon marker if you wish. These being removed makes the notebook 100% recyclable once there are no pages left to write on. The Cafeco notebook range can be branded either by deboss, foil block or digital print.
Seeded Items

The grow your own message is a popular choice. Our range of seeded items are popular event swag options. You can even use seeded items for social media competitions. For example, you could use the branding to encourage people to get competitive with their garden growing. They can then tweet a photo of it for a chance to win a prize. A popular seeded item is our desktop garden. The seeds are in an aluminium pot. Aluminium is great as it's recyclable but also durable so can be reused. There are various seed options available. The aluminium pot is available in silver or black.
If you would like to discuss eco-friendly event swag for your next exhibition or conference, please click here to get in touch.