Impact Range – Sustainable Branded Merchandise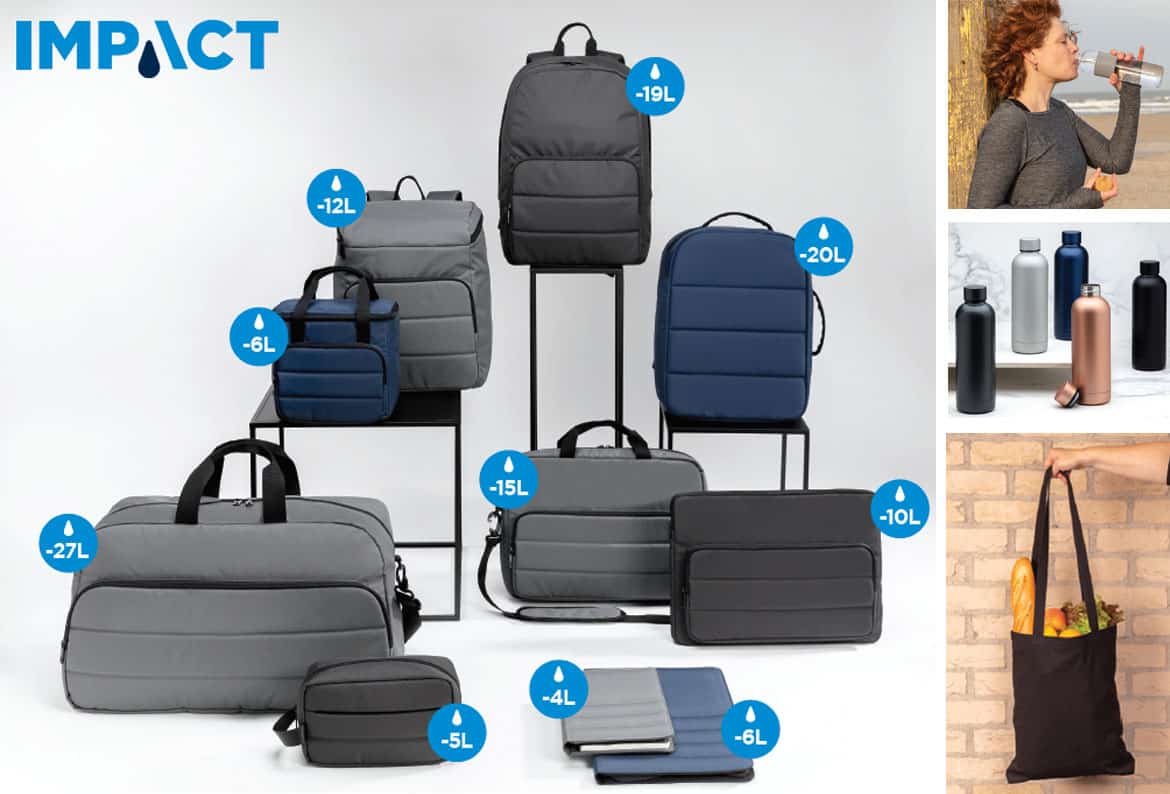 Impact Range – Sustainable Branded Merchandise
Our new Impact collection puts an end to greenwashing and tells the true story of sustainable branded merchandise. The Impact range is a line of products that aims to make an impact on the use of water.
Why is it important to make an impact on the use of water?
It is said that by 2025, 50% of the world's population will experience a 'water stress'. This is having to deal with a lack of sufficient and ready to use water.
How does the Impact range save water?
By using recycled polyesters and cotton. When using these recycled materials, we save thousands of litres of water. With AWARE™, we can guarantee that our products in the Impact range genuinely use recycled fabric materials and the water impact reduction claim is legitimate.
What is AWARE™?
AWARE™ is a virtual component in our Impact products. It verifies sustainable content in the final product by tracer technology and validates claims by blockchain technology.
How does the Sustainable Branded Merchandise Impact range benefit your brand?
For every Impact product sold, there will be a 2% donation to support water.org. There will also be secure traceability of our recycled materials. Plus, you will be saving water. For example, one of the bags in our Impact range saved 1631 litres of water compared to a non-recycled cotton bag!
We also have many other recycled and eco-friendly products outside of the Impact collection. These also stop products from reaching landfill.
What products are available in the Impact range?
Aprons
Shopper bags
Tote bags
Foldable shoppers
Drawstring backpacks
Rolltop backpacks
Cooler bags and backpacks
Toiletry bags
Beanies
Caps
Umbrellas
Tritan bottles
Stainless steel bottles
Glass bottles
Notebooks
Laptop sleeve
Portfolio case
Duffle bag
Laptop backpacks
Want to find out more?
Contact us for more information on sustainable branded merchandise solutions.