Carbon Neutral Branded Swag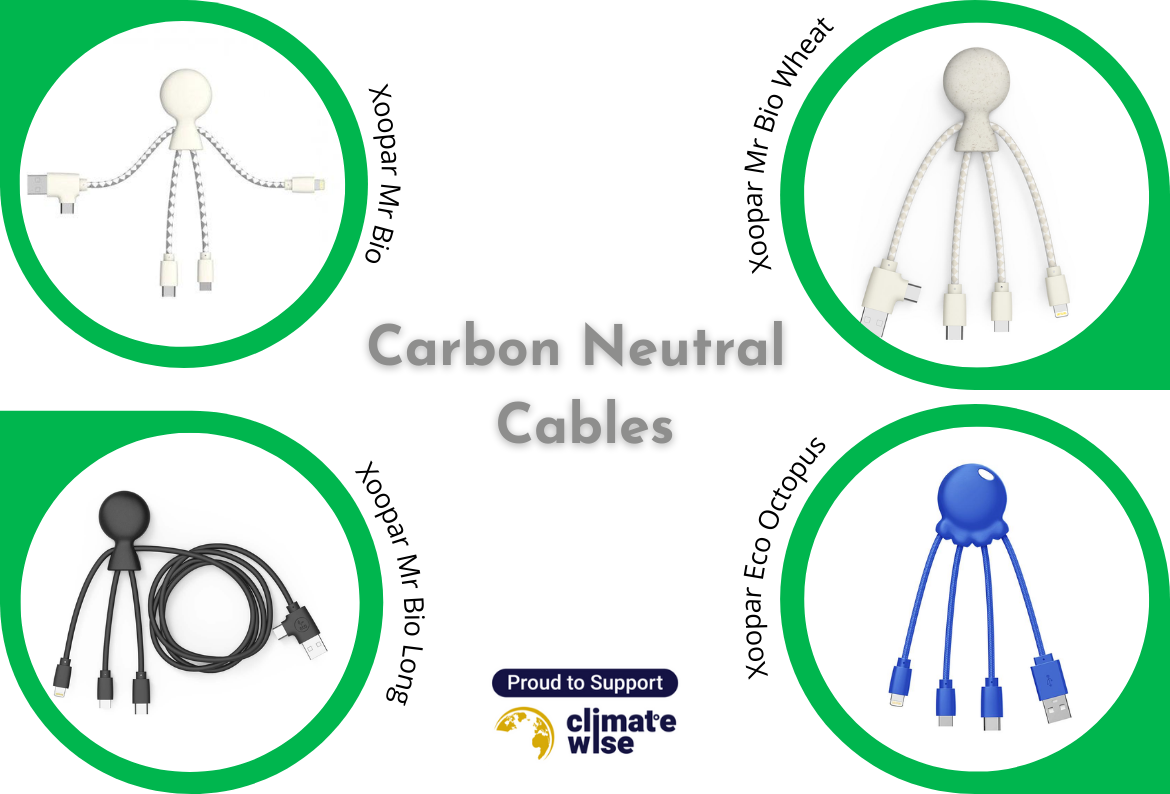 Carbon Neutral Branded Swag
We are pleased to announce that four of our popular charging cables have been offset through Climate Wise. This means we can now offer carbon neutral branded swag as part of our product offering.
The carbon offsetting is available on four of our popular cables: the Xoopar Mr Bio, Xoopar Mr Bio Long, Xoopar Mr Bio Wheat and the Xoopar Eco Octopus.  These have had their carbon emissions offset to one of Climate Wise's Gold Standard projects, the Arhyama Solar Power Project.
Xoopar Mr Bio Charging Cable
If you're familiar with our blog, you'd have read about the Mr Bio before. He is one of our most loved cables. He was introduced to our industry a few years ago as one of the first biodegradable cables. He has an additive added to the plastic used that helps him to biodegrade if he reaches landfill. Plus, the materials used are also easily recyclable. His flexi legs are made from DuPont Tyvek. When the Mr Bio is delivered, he is packaged in a smart FSC paper packaging pouch.
Xoopar Mr Bio Long
After the success of the Mr Bio, the Mr Bio long was launched. While the Mr Bio is handy for powerbanks and laptops. The Mr Bio Long is ideal for when you need to use your device while charging. Like the Mr Bio, the cable has a dual input connector and USB-C, Micro-USB and Lightning output connectors. This cable uses wheat and the added additive to make the plastic biodegradable and has RPET cables.
Xoopar Mr Bio Wheat
The Mr Bio then evolved to an even more eco-friendly option: The Mr Bio wheat! Like the Mr Bio, he has Dupont Tyvek legs but also a Wheat composite body, with the added additive to help him bio-degrade much quicker. The use of wheat means he is made from a renewable, natural material. Wheat consumes CO2 like all plants to help it grow.
Xoopar Eco Octopus
Our bestselling Octopus cable has now been re-engineered a bio-degradable cable. The Eco Octopus is made using RPET cables and a biodegradable plastic body. The USB input connects to three different outputs, providing an environmentally responsible way to charge any device. It's available in 5 popular colours: white, black, red, orange and blue.
Carbon Neutral Shipments & Tree Planting
As mentioned on our sustainability page, we can also offer carbon neutral shipments through UPS. If you were to opt into a carbon neutral delivery when you purchase from our carbon neutral branded swag range, your whole order would be net zero. What's more is that we offer tree planting with every order. So, when you spend £500 with us on branded merchandise, we will plant 10 trees. This means you'd have an order at net zero, then you'd also give something back to the planet too! You can find out more about our tree planting initiative and our terms and conditions here.
If you would like to place an enquiry for any of our four carbon neutral branded swag products, please click here to get in touch.