We Plant Trees with Every Branded Swag Order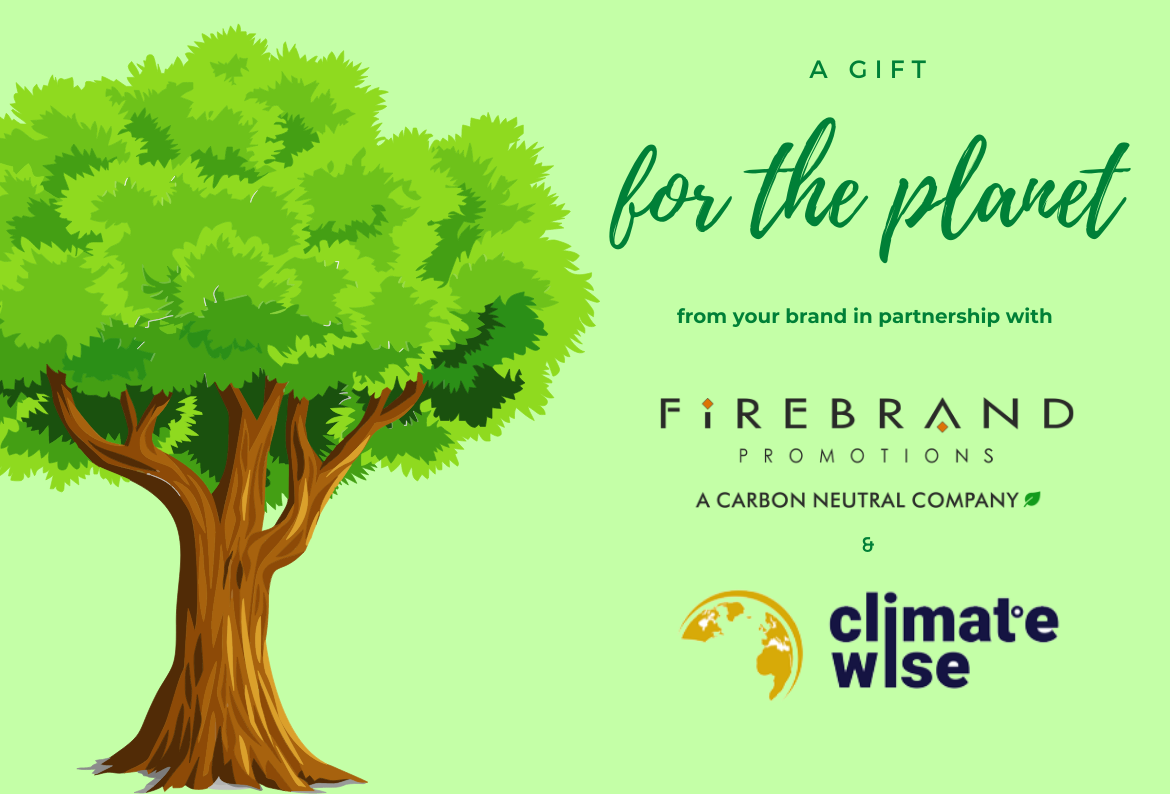 We Plant Trees with Every Branded Swag Order
We're pleased to announce that we will plant trees with every branded swag order. To be eligible for this offer, your order must be over the value of £500 (ex VAT and ex Stock Program Orders).
How does tree planting with Firebrand work?
When you place an order with us over the value of £500, we will plant 10 trees on behalf of your brand. This is part of our partnership with Climate Wise who support the Eden Group's global re-plantation project. You will be automatically enrolled into tree planting when your order is both over £500 (ex VAT) and not part of a pre-approved merchandise stock program order. There is no extra cost to your company to plant the trees. However, if you would not like us to plant trees on behalf of your company, please let us know.
What are the benefits to the environment when we plant 10 trees?
The Eden Group's global re-planting project works on planting trees in various countries. The type of tree that they plant is the Mangrove Tree. Scientific studies have shown that mangroves "sequester carbon at a rate two to four times greater than mature tropical forests" and contain "the highest carbon density of all terrestrial ecosystems" (Fatoyinbo et al, 2017). Mangroves are also a key part of coastal ecosystems, and "renowned for an array of ecosystem services, including fisheries and fibre production, sediment regulation, and storm/tsunami protection" (Donato et al, 2011). The key to mangroves is the large amounts of biomass stored underground in the extensive root system. These roots support the large trees in muddy coastal areas where mangroves thrive (Komiyama et al, 2008). What's more is that Mangrove trees have an average growth cycle of 25 years. Over the course of the cycle, they will absorb 308Kg of CO2 per tree or just over 12.32Kg of CO2 per year. Therefore, 10 trees will be the equivalent of absorbing 3080 Kg of CO2 (3 Tonnes) over a 25 year cycle or 123.2 Kg of CO2 every year.
Will our company receive certification?
Yes, your company will receive certification to state that you have had trees planted through the Firebrand Promotions and Climate Wise partnership. The agreement that we have with Climate Wise is to plant these trees each quarter of the year. This starts from February 2022. Once the figures have been sent to Climate Wise, they will arrange for the trees to be planted and we will receive a certificate. Your dedicated account director will send your certificate to you on request. In the instance where you have ordered branded merchandise more than once in each quarter, you will receive a certificate with the total sum of your trees.
If you would like to get in touch this initiative further, or to request a branded merchandise quote to plant trees when it goes to order, please visit our contact us page. You can give us a call or fill in the enquiry form and we will get back to you.
Terms & Conditions apply. 10 trees will be planted for every order over £500 ex VAT (excluding stock programme orders) each quarter and in line with our agreement with Climate Wise, a certificate detailing the numbers tree's planted relating to your orders will be available on request . There is no cash alternative.