Halloween Promotional Merchandise Ideas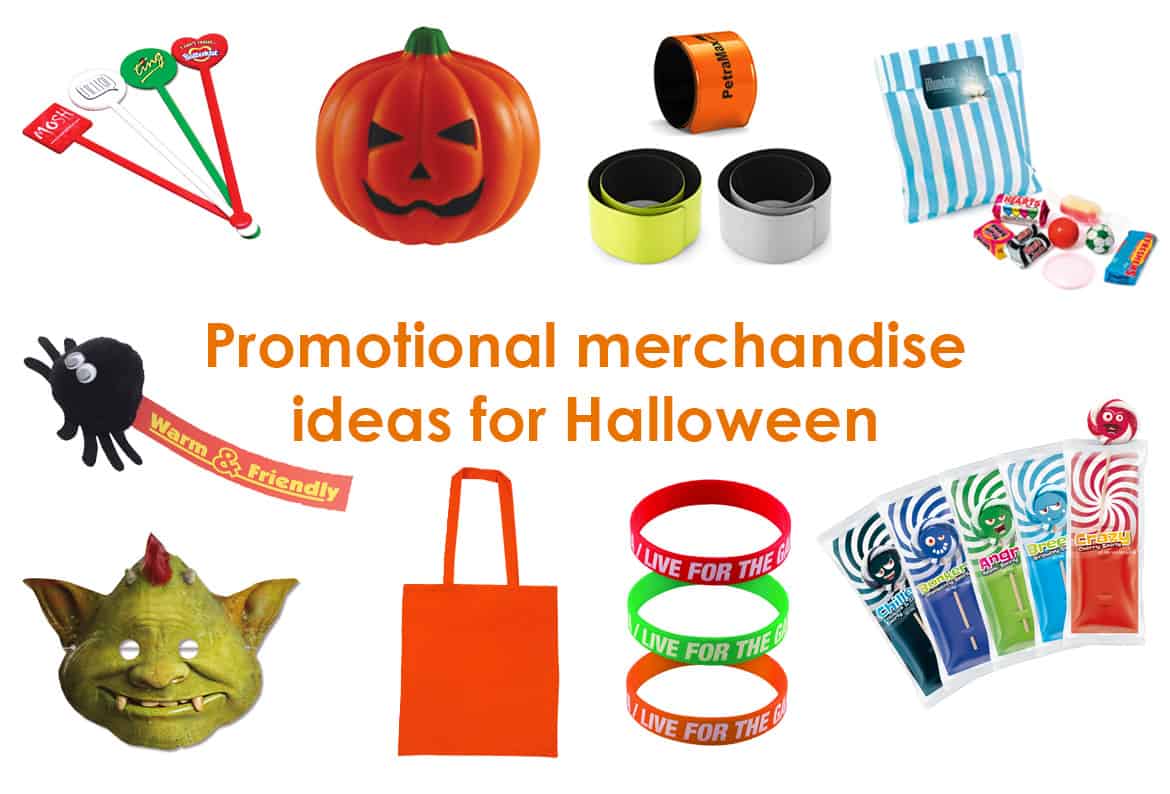 Halloween Promotional Merchandise Ideas
On the 31st October, we'll be celebrating Halloween whether its trick-or-treating, at a party or through our own marketing campaigns. We've put together a few Halloween Promotional Merchandise ideas that could work for your brand.
For trick-or-treaters…
It's not Halloween without sweets, so don't forget to treat your clients to branded confectionery. We've got an extensive range of sweet treats that you can add your logo to. You can click here to view some of our sweets.
Every trick-or-treater needs somewhere to hold all of their sweets that they've collected, so why not supply your customers with branded Halloween bags. Go for an orange tote bag and supply us with a design of a pumpkins face and your logo.
It's also important that children are safe whilst trick-or-treating and can be easily seen by cars and cyclists. Supply children with reflective snap bands with your logo. Alternatively, or in addition to slap bands, you can add safety reflectors to the trick-or-treat bags.
For parties…
Whether you're a club or a bar hosting a Halloween party or are having an office party, merchandise can go a long way!
Supply guests with glow in the dark silicone wrist bands. They're a fun way of promoting your brand through the use of a product that guests will keep as a memorabilia item.
At any age, glow sticks are a great accessory to add to your outfit and can be worn round your neck or your wrist. They can create a lot of fun and also look great in party photos!
Give out masks to get your brand involved with the fancy dress aspect of Halloween. These are a great way of getting your logo seen in photos and can make for great photo booth props.
Use balloons where possible to create the party mood and increase brand recognition. These will also be seen in the back of photographs which will result in continued brand exposure.
Branded drink stirrers are a fun way of incorporating a Halloween design into your drinks. Explore different options such as orange with a pumpkins face on a round end. Although, it's important to be drink aware and vigilant of peoples safety.
If you've got VIP guests, treat them to branded cupcakes. An excellent way of showing that your brand cares about their experience of the night, therefore giving your brand a great first impression.
Marketing campaigns…
A lot of our products can be tailored to fit the Halloween festivities and can make a great promotional giveaway.
Logobugs are a great giveaway for schools, charities or for getting your brands message across. We're able to supply spider logobugs which are great fun for adding to your desktop.
Stress products are excellent for showing your clients you care. Stress balls are usually one of the first things you think of when thinking of stress relief products, so how about adding your logo to a stress pumpkin? You can find some of our other stress relief promotional ideas by clicking here.
You can also brand a notebook with a Halloween design. Using the paper over board infusion notebook would be a great way to show off your Halloween messaging with your brands logo. Click here to find out more about the Infusion Notebook.
Get in touch!
Want to discuss Halloween promotional merchandise ideas and how they can work with your brands logo? Get in touch now.