Sustainable Branded Swag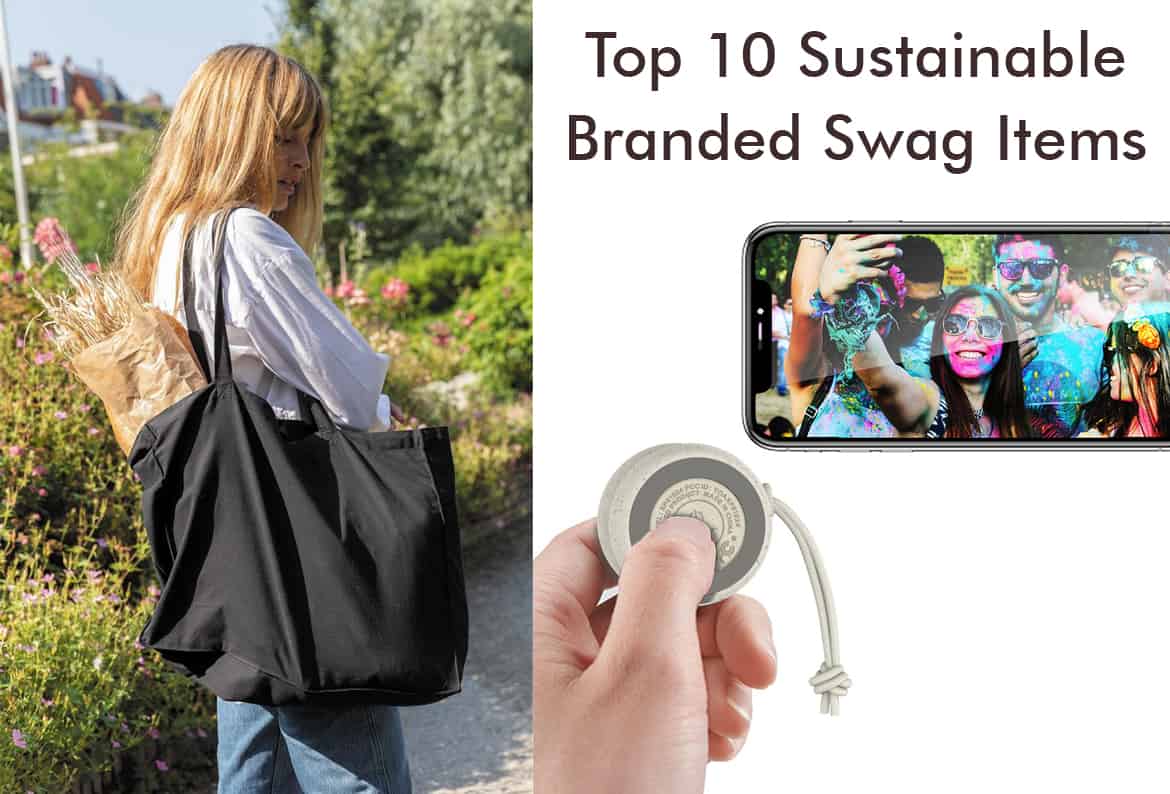 Top 10 Sustainable Branded Swag Items
Many of our businesses are on sustainability journeys. Making simple changes like recycling, calculating your carbon footprint, and measuring your waste are things most brands do. You can read more about the ways to become more sustainable here. Another thing that companies often do is change what they buy. When you're shopping for branded merchandise, are you considering key factors like what happens to the product when it reaches the end of its life? Do you think about whether a product is made using a renewable resource? That's why in this blog, we will be sharing our Top 10 Sustainable Branded Swag items. These products are spread across various product categories and are only a small snippet of what we can offer.
BE O Bottle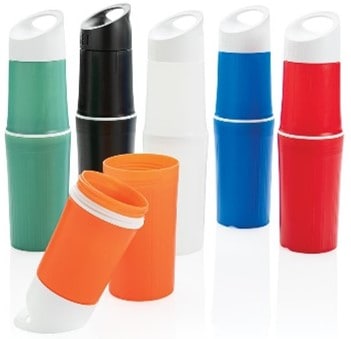 The BE O Bottle is a water bottle made from PLA. The PLA used is derived from sugarcane, a renewable resource that conserves limited resources from being used. PLA is also an oil-free plastic which is better for the planet. The BE O Bottle features a handy design, it can be disassembled into different parts. This makes it super easy to clean, carry and store. Each bottle has a -80g CO2e positive impact on our planet. Plus, a tree is planted for every bottle bought! The BE O Bottle has a 500ml content and is 100% recyclable.
The branding areas are generous. You can print your logo direct to the bottle and / or print on the wrap around sleeve. The perfect sustainable and promotional gift!
Impact AWARE™ Recycled Cotton Shopper 145g
The Recycled Cotton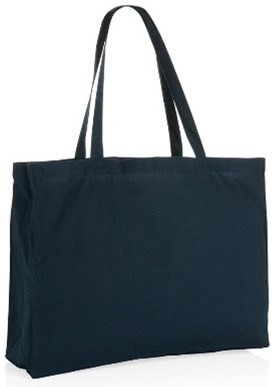 Shopper is a product from our Impact Collection. You can carry all your essentials in this functional recycled cotton tote bag. The bag features a 14cm gusset for extra storage and is embedded with AWARE™ tracer technology. With AWARE™, the use of genuine fabric materials (70% recycled cotton / 30% RPET) and water reduction
claims are guaranteed. This cotton shopper saves 860 litres of water. Saving water is an excellent way to preserve energy, which then helps the planet. Plus, every product that is sold from the Impact collection, a 2% donation is made to Water.org. All products in the Impact range are fully recyclable too!
The branding area on this product allows you to get creative. You could add a message about the materials used to make this bag or the fact it's reusable.
Compostable Confectionery Pots

– a great Sustainable Branded Swag gift for an event giveaway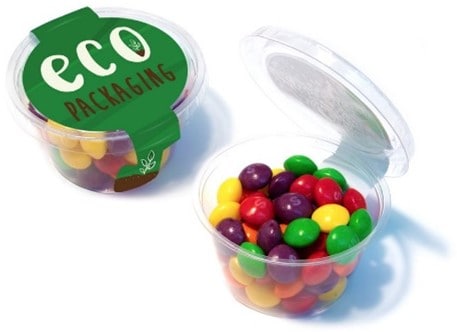 Available in 3 sizes are our compostable confectionery pots. We have several sweet fillings to choose from, such as Jelly Beans, Chocolate Beanies, Mint Imperials, Vegan Bears, Skittles and much more. Plus, with some of our fillings, you can even mix and match the colours of the sweets to your logo! A great way to take popular, sustainable branded swag items and make them unique to your brand. The Confectionery Pots are made from PLA, derived from sugarcane, just like our BE O Bottles. Once your sweets have been gifted out to clients, employees and prospects, they can dispose of the pots and they'll decompose in the food waste.
These pots are sealed closed with a label. The label can be branded with your design in full colour. Why not add a sustainable message with a cartoon?
Cafeco A5 Notebook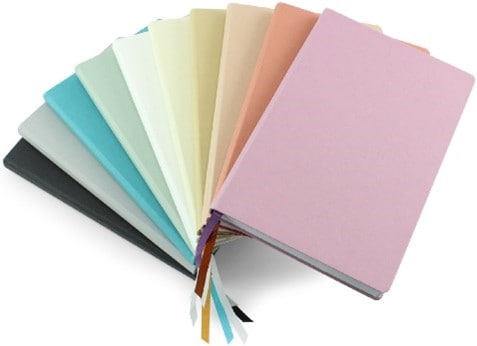 Cafeco is a fantastic new material which is made from 100% recycled paper fibres. 60% comes from waste cardboard coffee cups and 40% from waste office stationery. Not only is it a fully eco-friendly notebook based on the materials used, but it can also be fully recycled. To be recyclable, we can remove the ribbon page marker for you on request. Another great advantage to this notebook is that it's made in the UK. UK Made Merchandise emits less CO2 than merchandise that is made overseas. This is due to the fact air miles are not needed to get the product into the UK. Buying British also supports the economy.
The Cafeco A5 Notebook is perfect for debossing or foil blocking. Send us your logo and we'd be happy to arrange a visual for you!
Xoopar Eco Octopus Cable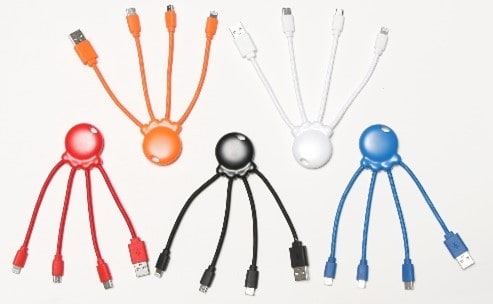 The Xoopar Octopus cable has been a best seller of ours for years. Now it is available in eco-friendly materials! We love to see a product evolve and become sustainable. The Eco Octopus is made using RPET cables and a biodegradable plastic body. The USB input connects to three different outputs, providing an environmentally responsible way to charge your devices. The charging cable is packaged and delivered in an FSC packaging pouch. The cable is ideal for use at home, in the car, plugged into a laptop or into a powerbank. It's a must have for anyone!
Your logo can be added to one side of the Octopus' head. With various colours available, you can match your cable to your logo.
Sustainable Branded Swag for the office –

Senator Super Hit Bio Ballpen

Our Senator pen range is popular with many of our clients. Senator are a carbon neutral company and the production of their pens uses green energy. In their range, they have several bioplastic options. We discussed those in a recent blog post. One of our favourites is the Senator Super Hit Bio Ballpen. Made from PLA derived from sugarcane, no virgin materials are needed to make these pens. Senator ink refills are long-lasting, some of them can write up for 5000m! The ink used in the Super Hit Bio can write up to 1800m. However, once you've ran out of ink, you can request a free refill for your pen. A great way to give a popular promotional product, a new lease of life.
The Senator Super Hit Bio ballpen can be branded with your logo on the barrel or on the clip. Why not add your website URL or phone address to the clip?
Desktop Garden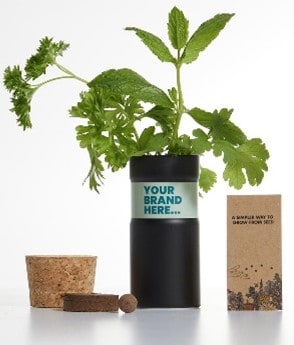 The Desktop Gardens are another popular sustainable product. They make an excellent giveaway. The pot comes complete with an innovative seedball that will germinate in around 7-14 days. The pot itself is made with recycled brushed aluminium. Aluminium is great as it's a recyclable material. However, once the plant has grown, you can reuse the pot to grow again or to store precious bits and bobs.
You can brand the pot with a full colour label, laser engrave or a rotary screen print.
Xoopar Wheat Yoyo Speaker

A tiny speaker with a mighty impact! For anyone that likes music on the move, this gadget would make a gift for them. Due to its size, it's ideal for travel as it doesn't take up room in bags and doesn't use too much material in a design. Saying that, the material used is Wheat and a biodegradable ABS plastic. ABS is a recyclable plastic, however for this product, an additive has been added to help it biodegrade. The Yoyo speaker is 34mm tall and has an impressive 3W sound. The speaker comes packaged in an FSC box, the perfect finishing touch to a sustainable gift.
Your logo can be placed on the front of the speaker with a pad print.
Metal Straws

– Sustainable Branded Swag for daily life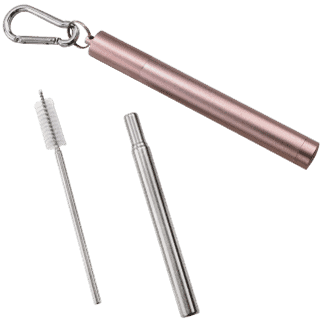 Plastic straws are now a thing of the past. This was a great move to help unnecessary plastic from reaching our oceans. Paper straws are a great alternative, but metal straws are a reusable alternative. We have metal straws available with cleaning brushes and pouches. We even have straws that collapse into a compact and easy to carry around design. You can use a reusable metal straw with many different drinks such as iced coffee, alcoholic beverages, water, juice and milkshakes.
On the collapsible straw, you can brand directly to the straw itself. You could even brand to the case.
Americano Renew Tumbler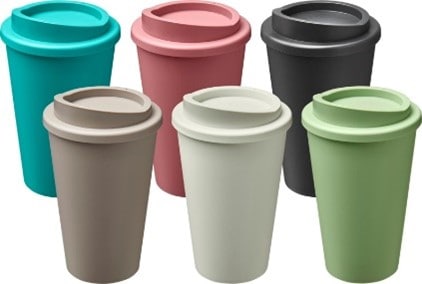 The Americano Renew, 25% PLA, 75% PP – 100% recyclable. The Americano range has been full of bestselling reusable travel cups for years. They're a range of cups that we love ourselves and often use them as giveaways at our own events. Excitingly, the Americano range has grown again with the Americano Renew. Like the compostable pots and the BE O Bottle, this PLA is also derived of sugarcane. PLA is great as it uses a source of material that absorbs CO2 from the atmosphere. This tumbler is packed in a compostable bag to keep it safe while being delivered. Similar to the Cafeco notebook, the Americano Renew is made in the UK and offers all the same benefits when you buy British.
Currently, the Americano Renew is available in 6 colours which are inspired by the ocean and other elements. As for the branding, this travel cup offers a generous area around the cup. It can be screen printed with your sustainable message.
Thank you for taking the time to read our top 10 sustainable branded swag items. If you would like to discuss any of these further for your brand, please click here to contact us. We can arrange visuals for you to see how your logo would look on these items! If you would like to learn more about the materials used in our merchandise, you can visit our sustainability page. As you travel down the page, you'll find a materials carousel, as well as our roadmap, information on our Climate Wise partnership and our sustainable approach.