Collins Word of the Year 2018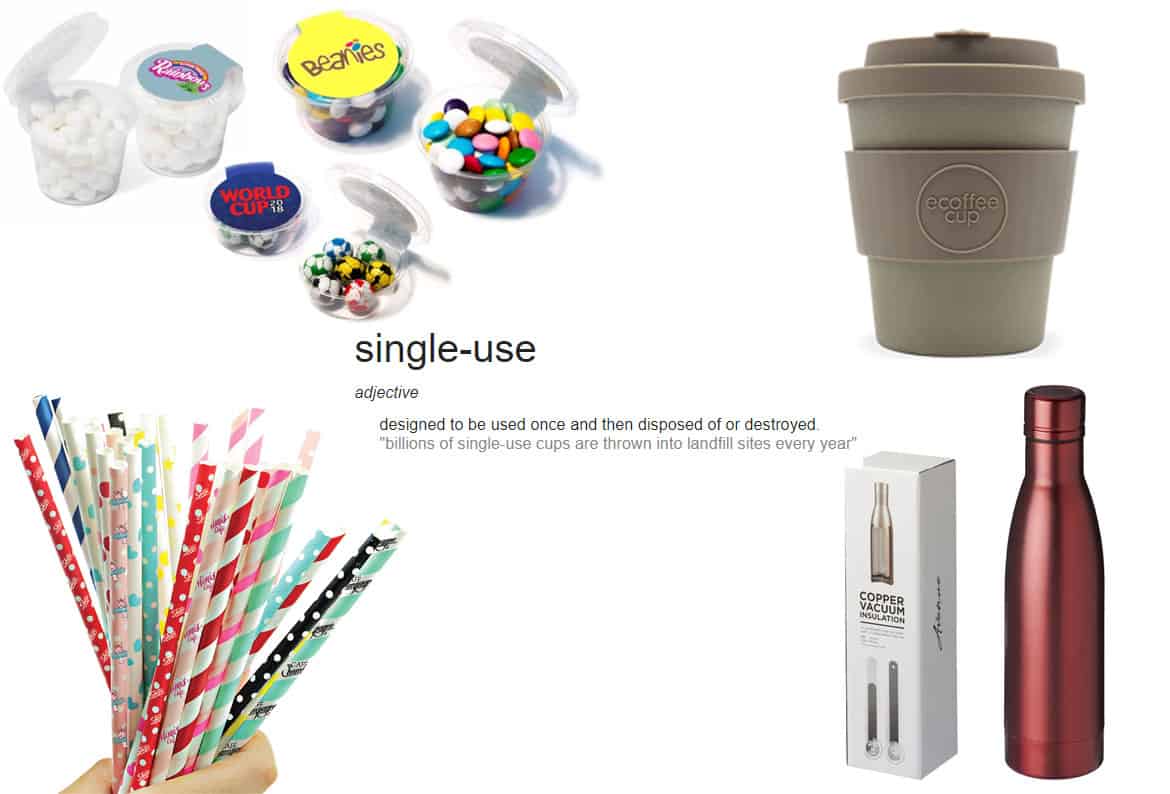 Collins Word of the Year 2018
The Collins Word of the Year 2018 was recently announced, with no surprise as 'single-use'.
The term single-use is something we've been using a lot at Firebrand throughout this year as we push our reusable or eco friendly branded giveaways such as sweets, travel mugs, reusable bottles and tote bags as well as presenting eco-friendly items in our trends updates.
We've also used our marketing communications via email, LinkedIn and our website to deliver lots of eco-friendly ideas all of which revolve around cutting down on the Collins Word of the Year 2018 'single-use'.
To honour the Collins Word of the Year 2018, we're sharing some of our favourite products that help to cut down on single-use products…
Branded Paper Straws
We created a stir with our clients after sharing our first news post on branded paper straws back in May 2018. After receiving many enquiries and quote requests, it was great to see that so many brands want to swap out single-use plastic straws for paper straws.
The news post shares many useful statistics from www.choosetogostrawless.com such as, on average, 500,000,000 straws are used each day. That's enough straws to fill 46,400 large school buses per year!
Our branded paper straws are fully biodegradable and are manufactured from paper material.
Branded ECoffee Cup
Back in October 2018, we selected the renowned ecoffee cup as our product of the month with a fantastic dual-branding opportunity! As you can imagine, this offer went down a treat for many brands.
The ecoffee cup is made from Bamboo. Bamboo is an excellent material to use in products as it comes from a renewable source and is a biodegradable material. It's also fully dishwasher safe as well as light and lovely to drink from, making it a user-friendly cup.
Vasa Copper Vacuum Insulated Bottle
The Vasa Copper Vacuum Insulated Bottle is a stylish and practical solution to cutting out 'single-use' plastic bottles. The bottle keeps your drink hot for 12 hours or cold for 48 hours. It is double walled and made from 18/8 grade stainless steel with vacuum insulation and a copper plated inner wall for temperature control. Enjoy up to 500ml of your favourite drink. The bottle is also presented in an Avenue gift box which can be recycled.
Eco Pots – Sweet Packaging
Back in June 2018, we shared an email marketing campaign to our subscribed mailing list. This was regarding the eco-friendly compostable pots; Eco Pots.
Available in 3 sizes, the eco pots offer many benefits and are an excellent packaging option to cut down on single-use sweet packaging.
Certified compostable – to be certified as a compostable product, it must break down within 12 weeks in the food waste recycling.
Widely accepted in food waste recycling – only compostable packaging can be included in food waste recycling. If it's biodegradable, it may not break down fast enough for food waste.
Renewable resource – The eco pots are made from renewable resources trees, corn and sugar cane.
Low carbon – as the eco pots are made from plants and not plastic means there is 78% less CO2 from these pots.
If you'd like to discuss any of these products for your brand and help to cut down on 'single-use' products, click here to get in touch.