Branded Eco-Friendly Webcam Covers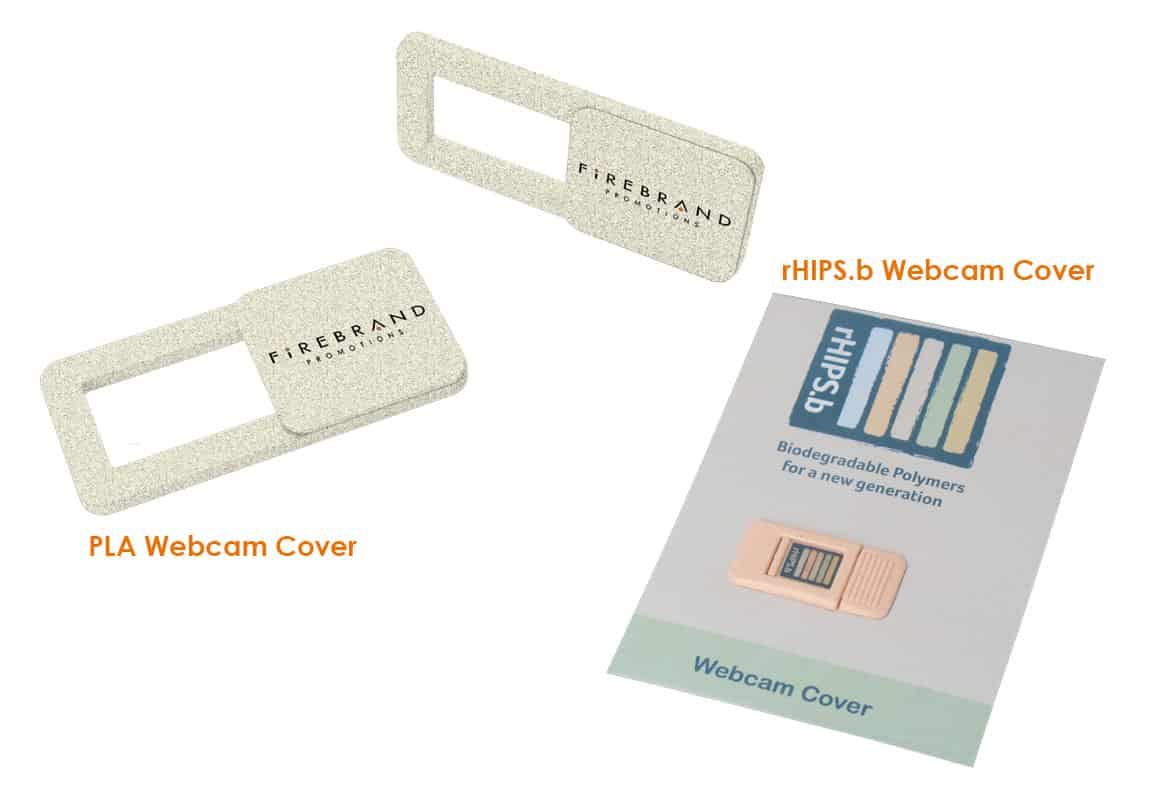 Branded Eco-Friendly Webcam Covers
Branded webcam covers have been a popular product in our range over the past few years. A couple of years ago, we shared a news post about the importance of them. Since then, sustainable materials have become more accessible. This means we now have several Branded Eco-Friendly Webcam Covers available in our collection.
 Why should we use webcam covers?
Hackers can access a computer and spy on someone through the webcam. Even worse, they can disable the LED light that would usually shine when you are using your webcam. This means you wouldn't be able to tell that your computer has been hacked just by looking at the camera.
While there are many antivirus softwares available. It is recommended that you put a physical barrier over your webcam to stop a hacker from watching or recording through the camera.
 PLA Branded Eco-Friendly Webcam Cover
One of our eco webcam cover options is made from PLA.
Polylactic acid (PLA) is a natural plastic substitute made from fermented plant starch (usually corn or sugar cane)
It's an eco-friendly, renewably sourced and biodegradable alternative to conventional petroleum-based plastics
The usage of PLA will reduce the carbon footprint of many industries
This non-toxic green material can be used for all kinds of products such as grocery bags, pens, safe reusable tumblers, drinkware, webcam covers and much more!
On the occasion where you would still like polybags with your products but plastic removed, we can source PLA polybags. They will biodegrade!
The cover is made from plant corn starch which is fully biodegradable. It is packaged with recycled backing card. The great thing about the backing card is that you can design the artwork to go on the front and back of it, meaning you can deliver a successful security campaign. Your webcam cover can also be branded, this means your logo will sit in front of the user for the duration of them using their device.
 rHIPS.b Branded Eco-Friendly Webcam Cover
Our other eco webcam cover is made of a new material called rHIPS.b
b is a biodegradable polymer made from 100% waste and recycled products
It is made from things like old yoghurt pots and the inside of fridges, so no virgin materials are needed
It naturally biodegrades in compost, landfill and water by being broken down by over 600 naturally occurring microbes
The biodegradation process is accelerated by 200 times faster than standard plastic and is the first of its kind on the promotional market
It works through the addition of a Biodegradable Additive that enhances the ability of naturally occurring microbes to consume the plastic
Available in 5 natural colourways, we can supply items such as hygiene tools, webcam covers, trolley coin keyrings, rulers, plant markers, sporks and more in rHIPS.b
Once taken off the device, it is fully biodegradable. It comes with a full colour backing card which can be branded both sides with your design. Like the PLA option, the cover itself can be branded too. This always keeps your logo in eye level view with the user. It comes packaging in a PLA polybag. This will also biodegrade unlike normal plastic polybags.
We also have webcam covers made from recycled plastic. These wouldn't be able to biodegrade but they would cause other products to be repurposed and away from reaching landfill.
If you would like a quote for either of our Branded Eco-Friendly Webcam Covers, please click here to get in touch.