Branded Eco-Friendly Umbrellas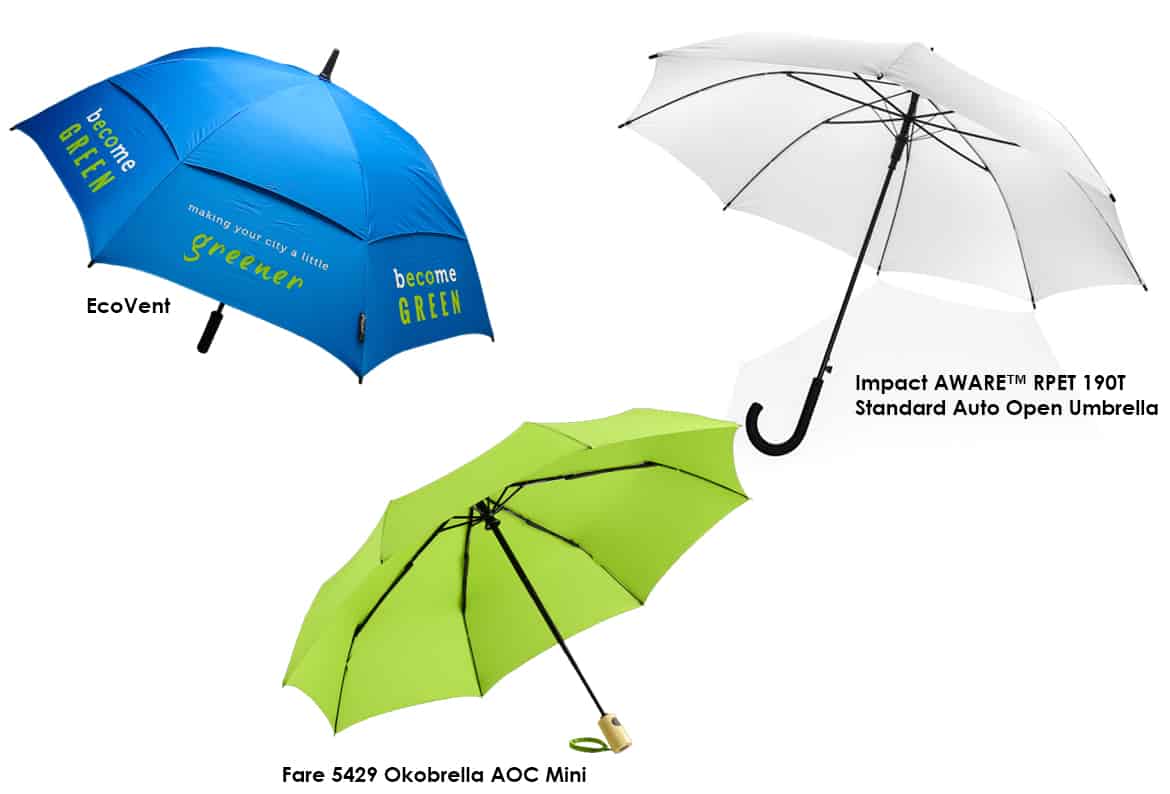 Branded Eco-Friendly Umbrellas
Promotional umbrellas have always been and still are a popular branded item. They offer many benefits which we will go through in this post. However, the best benefit of all is that we have branded eco-friendly umbrellas available in our range too.
Benefits of branded umbrellas
Large print areas – each panel on an umbrella can be printed on. Whether it's a logo or a full design, the possibilities are endless. You can even print the bottom of the handle too. That is a huge amount of brand exposure!
Great value for money – rain is guaranteed almost all year in the UK right? So, you know how often an umbrella has an opportunity to be used. Think about how many times you've been out on the high street in the rain. Most people will be using an umbrella. The return on investment you get from an umbrella is worth the purchase!
Long lasting – we have storm-proof options available. So if it blows inside out, our fibreglass ribs let you use your brolly over and over.
Branded Eco-Friendly Umbrellas
Our range of eco-friendly umbrellas is continuously growing. In this news post, we are going to share a few of our best-selling options with you. We do have more in our range though, so contact us if you would like to see alternative options.
The Ecovent Umbrella
Our Ecovent umbrella has a vented canopy made from 100% recycled PET (RPET). RPET is the use of recycled single-use bottles. The canopy has an increased stability in windy conditions. The umbrella also has an automatic function for quicker opening – ideal for those sudden showers. It also has a strong but lightweight fibreglass stem.
The Fare 5429 Okobrella AOC Mini Umbrella
Our Okobrella AOC has a convenient automatic open / close function for quick and easy opening and closing. The cover is made from RPET. This umbrella also has a Bamboo handle, giving it the final touches in sustainability. The handle can also be branded! The umbrella has a high quality windproof system for maximum frame flexibility in stormy conditions.
Impact AWARE™ RPET 190T Standard Auto Open Umbrella
The name gives the benefits away on this umbrella! We recently shared a post about our Impact collection. This umbrella is a product from this range. With AWARE™, the use of genuine recycled fabrics and  water reduction impact claims are guaranteed. When you buy this umbrella, you will save water and a 2% donation will be made to Water.org for every Impact product sold. This umbrella has a metal frame, RPET canopy, Fibreglass ribs and PP handle. The canopy on this umbrella has saved 4.9 litres of water and is made from 8.2 PET bottles (500ml).
If you would like to discuss branded eco-friendly umbrellas for your next event or campaign, click here.