Benefits of Reusable Face Masks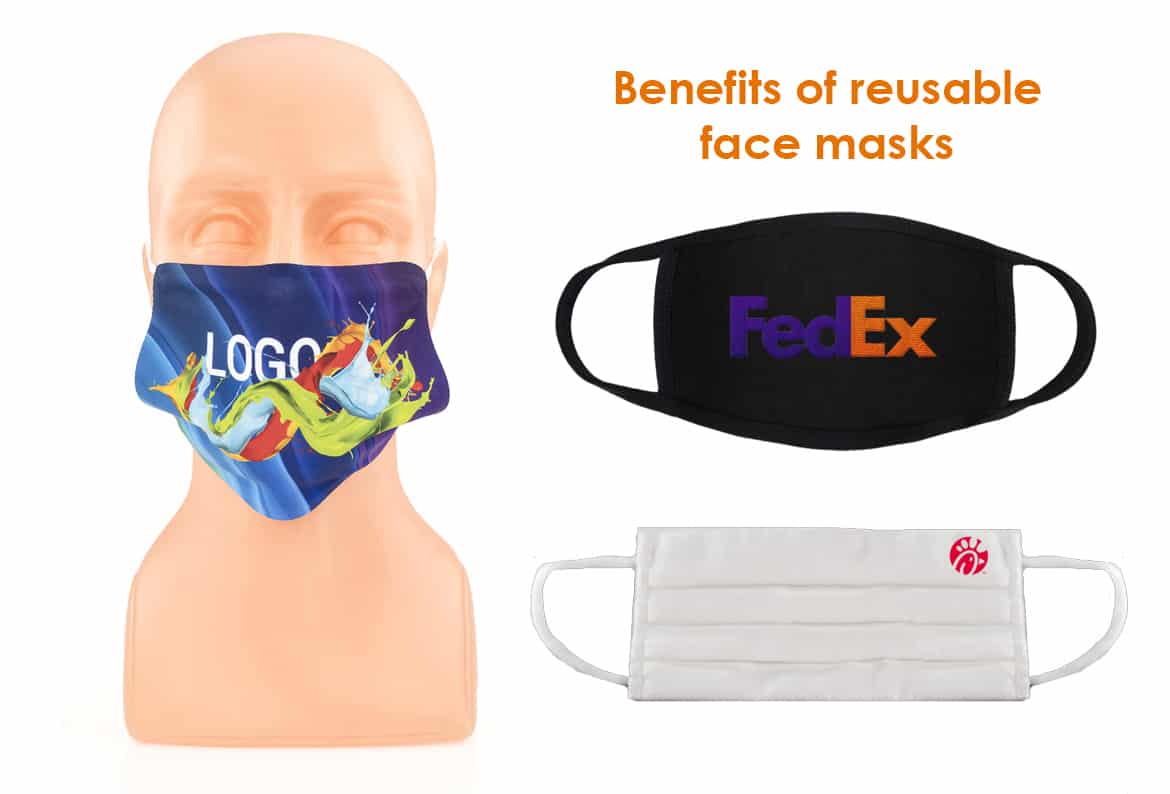 Benefits of Reusable Face Masks
Face masks are excellent for keeping us safe in our daily lives and to help with reducing the spread of COVID-19. However, did you know there are so many other benefits of reusable face masks?
They can be branded
No matter what industry your business is in, a branded reusable face mask will look smart and professional. Your staff may be facing customers in a shop, bar or restaurant or fellow commuters on the way to the office. This helps your brand see an increase in exposure every time the covering is worn. If you're interested in branded reusable face masks, we'll be happy to help! We also recently shared an article about branded reusable face coverings which you can read here.
They are an eco-friendlier option
The key is in the name 'reusable' face masks, you can wash and re-wear these face masks time and time again! It's important to remember the effort we put into becoming eco-friendlier prior to the pandemic and still continue those efforts. Plus, once they have come to the end of their life, you can take them to be recycled with other clothing garments and give them a new lease of life.
They are lightweight and easy to transport
It is important to keep your reusable face mask clean whilst it is not being worn. They easily fit in to a sandwich bag or face mask case and then into a pocket or bag. Then once you need to put it on, or adjust it, all you need to do is use a hand sanitiser to make sure it is kept clean. Due to how easy they are to carry around and transport, it makes it impossible to forget one taking it out!
They make great branded gifts for staff
Whilst it is an unusual gift, face masks make an excellent token to show employees your brand cares. Wellbeing is as important as ever at the moment and investing in your colleague's health and wellbeing will go a long way.
They help us return to a 'new normal' and make social distancing easier
Many of us are eager to return to normal and reusable face masks can definitely help with this. Face masks are required now to continue daily activities such as shopping or visiting entertainment venues such as the cinema or bowling. As they're needed so often, it is more economical to buy several reusable face masks than a box of disposable face masks.
They work out to be more cost effective
Whilst buying a reusable face mask may seem the more expensive option at the time. The reusability of them will work out cheaper than keep having to buy a box of disposable masks.
If reading the benefits of reusable face masks has inspired you to get branded ones made for your brand, contact us to see how we can help! Also, don't miss our work safe personal protection merchandise on our product page.