Promotional T-Shirts Branding Special Effects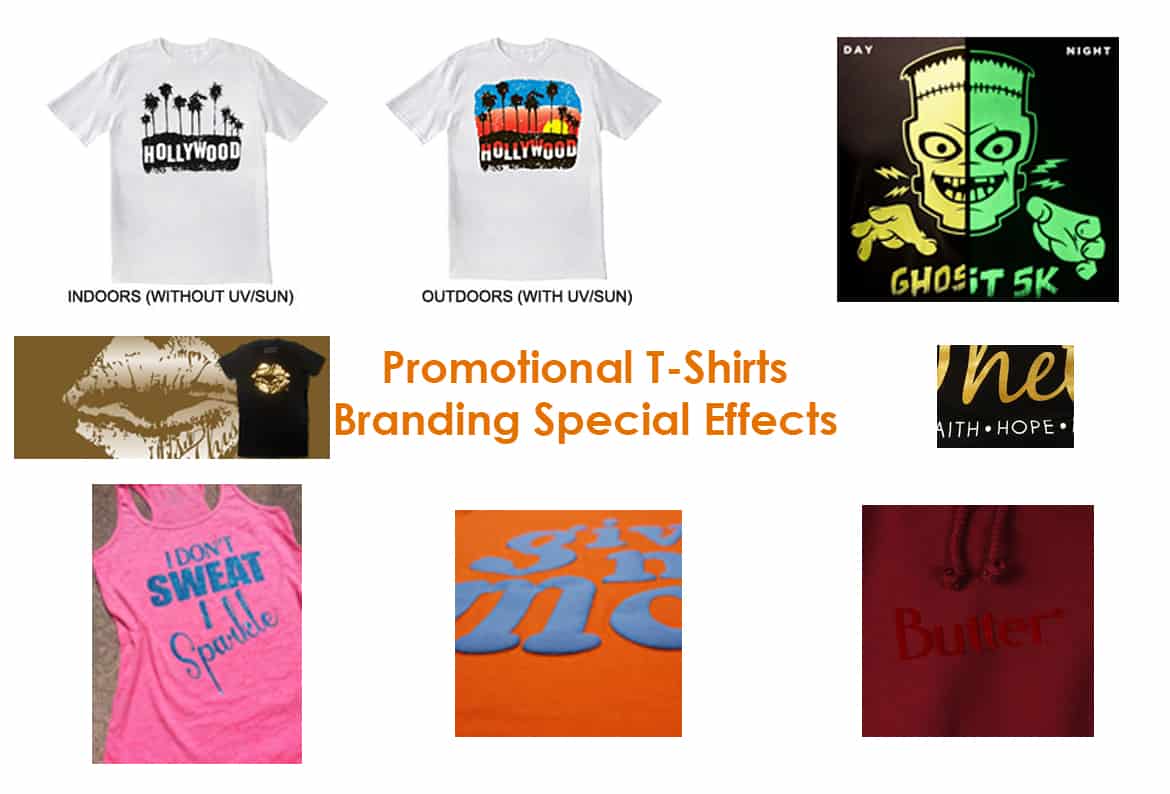 Promotional T-Shirts Branding Special Effects
Promotional t-shirts provide many uses for brands in order to increase awareness. Uses may include uniform, event wear, giveaways or memorabilia.
We can help to supply your brand with promotional t-shirts that feature the ideal branding method to suit your artwork. Our different branding methods are extensive, for example there is the standard screen printing, DTG printing, vinyl printing and embroidery. However, if you want to create even more of a talking point, we've also got a range of special effects that you can use to brand your clothing with…
Photochromic ink
Photochromic or UV reactive inks are almost transparent when viewed indoors but change to vivid colours in sunlight. These are good as they create a magic-like effect that can be created with a print that effectively displays two different designs – one indoors, and another outdoors.
Glow in the dark ink
Glow in the dark ink does exactly what their name suggests! It's a great branding method as you can combine it with a stand print meaning you make particular parts of the t-shirt stand out.
Foil printing
Foil printing is a two-stage process which leaves a shiny metallic 'print' on the shirt. First, the garment is screen printed, using a special adhesive rather than ink, and cured (dried) in the normal way. A sheet of foil is then heat-pressed onto the image created by the adhesive. When the press is lifted away, the foil sticks to the adhesive-printed areas and the excess is removed.
Metallic inks
Metallic inks result in a shimmery, sparkly effect, rather like metallic car paint. Metallic screen printing is cheaper than foil printing but doesn't have the same full shiny effect.
Glitter ink
Similar to foil printing and metallic inks, glitter inks can make your design sparkly and eye-catching. They're available in a variety of colours and will make your logo look dynamic.
Puff print
Puff prints are created by mixing a specially formulated base in with the ink. The base-ink mix expands as the print is cured through the heat tunnel, leaving a 3D texture. Puff inks are also available in a wide range of colours.
Flock printing
Flock printing is again achieved by adding a special base to the ink, which gives the ink a furry, velvety texture as it's cured through the heat tunnel.
If you'd like to discuss promotional t-shirts for your brand, see visuals of how different special effects can work with your artwork or to arrange a sales meeting, click here to get in touch.