Get ahead of the Latte Levy with Branded Reusable Cups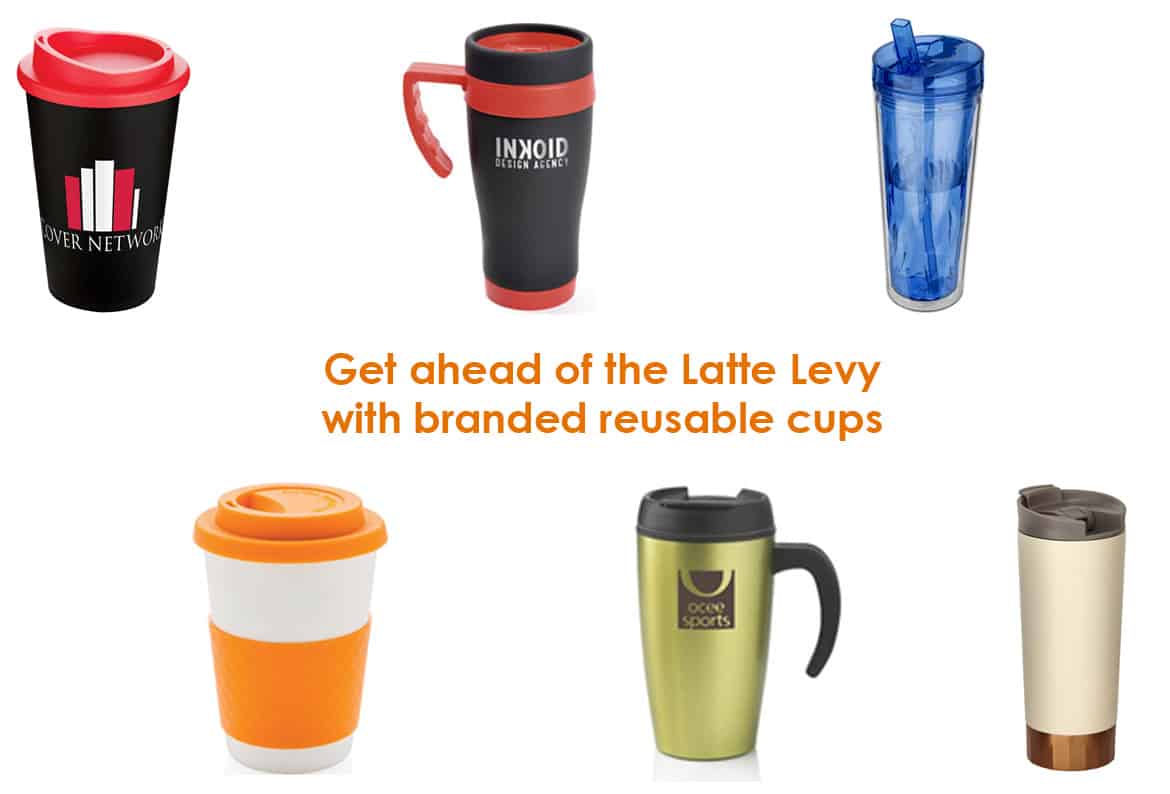 Get ahead of the Latte Levy with Branded Reusable Cups
Did you know that billions of disposable coffee cups are thrown away in the UK each year? This is down to the fact that the cardboard is walled with a thin layer of plastic which isn't biodegradable.
MPs are calling for a 25p "Latte Levy" on disposable coffee cups and a total ban unless recycling improves. However, many coffee shops are offering discounts for those who come in with their own reusable cup. Making this the perfect opportunity to give out branded reusable cups. We've put together some of our favourites that'll help your brand get ahead of the Latte Levy with Branded Reusable Cups.
Americano Mug
Our best-selling 350ml Americano® Thermal Mug has a durable double walled design and a huge range of colour options. The mug has a large branding area and offers a print of up to 6 spot colours. You can also add a branded silicone grip as an extra. It even comes in some different variations such as smaller sizes or a glittery effect.
ECO Bamboo Fibre Coffee Cup
Made from naturally grown organic bamboo fibre. Our 270ml coffee cup is complete with a coloured silicon lid and grip. It's free from any harmful synthetic materials and is reusable and durable. The cup itself is eco-friendly and biodegradable. The cup is also supplied in a eco-friendly box.
Oregan travel mug
The Oregan Travel Mug is a 450ml black rubberised, stainless steel travel mug with plastic interior. It also features a gripped handle for ease when holding. The Oregan is available in black with orange, black, cyan, blue, green, pink, purple or red.
Urban mug
The Urban Mug is a 400ml stylish mug which is ideal for using on the go or at your desk with a cup of tea or coffee. The urban mug has a registered design®. The mug is available in grey, green, orange, blue, silver or white.
Peeta Copper Vacuum Tumbler
The Peeta Copper Vacuum Tumbler is a durable 500ml tumbler that is ideal for travel as it fits in most cup holders. It's double walled vacuum construction with copper insulation means it'll keep drinks hot for 8 hours or cold for 24 hours. Available in chrome or black.
Hot & Cold Flip 'n' Sip Geometric Insulated Tumbler
Our Hot & Cold Flip 'n' Sip Geometric Insulated Tumbler has a capacity of 535ml. The style is defined by geometric angles. The tumbler's lid and insulation make this perfect for both hot and cold drinks. Available in black, blue, transparent clear and lime.
Want to get ahead of the Latte Levy with Branded Reusable Cups? Contact us today.