Festival merchandise to get your brand seen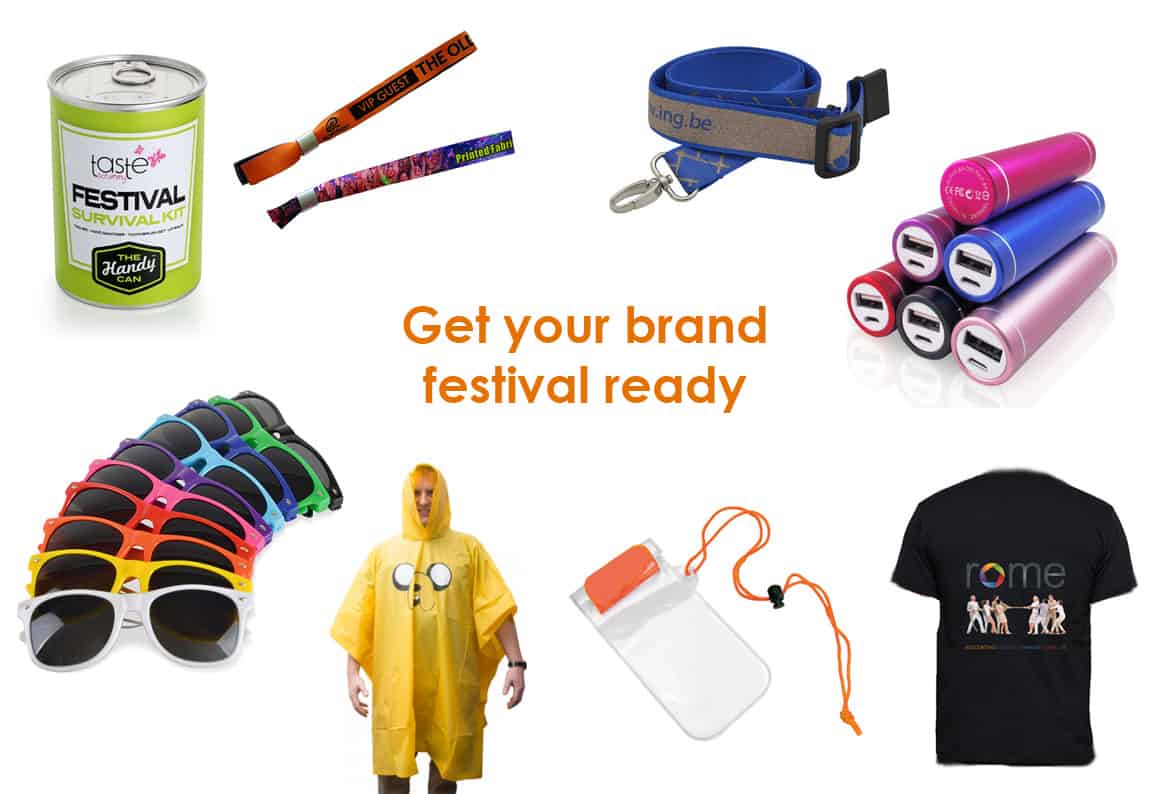 Looking to target festival-goers this summer? We've got an excellent range of festival merchandise to help you get your brand seen.
Promotional T-Shirts
Branded T-Shirts, as well as other custom clothing are an excellent way of getting any marketing message across in a busy crowd. Your brand will continue to receive exposure after the festival through pictures and re-wearing the clothing.
Branded Power banks
There is nothing worse than battery anxiety when you want to be sharing your festival experience on social media or taking photos. Your brand can offer the charging solution by giving out power banks. An excellent re-usable gift that'll continue to increase your brand recognition each time it's used.
Waterproof Mobile Phone Cases on a Lanyard
Why not promote your brand with this fantastic giveaway that will be sure to protect all festival-goer's phones from the summer rain! You can still use your phone through the waterproof case and it's ideal for touch screen phones. Recipients can use the handy lanyard to keep their phone close to them without holding it. This clever promotional product will also help to prevent phones from being misplaced.
Festival Survival Kit
As festival season starts, the neat Survival Kit in a Handy Can includes a Pack of Tissues, 7.5ml Hand Sanitiser, Travel Toothbrush and Paste, Lip Balm and Earplugs. The Survival Kit Can is available in blue, purple, pink, red, orange or green.
Sunglasses
If you're fortunate to see some sun, sunglasses are an excellent giveaway. We've got sunglasses available in a wide variation of sizes and colours, your brand is sure to be giving away a great solution to those with the sun in their eyes!
Poncho
Ponchos are the perfect solution to a lightweight cover from the rain! Brand with your logo to help your brand be seen and recognised. Ponchos can be taken home and reused at the recipients next festival or even taken out with them to theme parks or charity runs!
Wristbands
Festival-goer's love a wristband and you tend to see them wearing their wristbands for a while after the festival. If you add your logo to a wristband, your brand won't go unnoticed.
Glitter Lanyard
Have some fun with your promotional lanyard and opt to have your logo on a glittery surface. The glitter lanyard will soon become part of their festival accessories. An excellent way to get your brand on the glitter trend! Some festival-goers are unlikely to throw their lanyards away, especially if it's memorabilia of the festival that they visited.
Interested in adding your logo to festival merchandise? Contact us now to see how we can help. If you don't see what you're looking for, let us know and we'll see if we can source it for you!
A World of Merchandise 2 – Your Brand Matters
On the 26th September, you'll have the chance to attend A World of Merchandise 2. An excellent opportunity to explore new and on-trend promotional products. Find out more, watch our 2015 event video and register by clicking here!