Corporate Cupcakes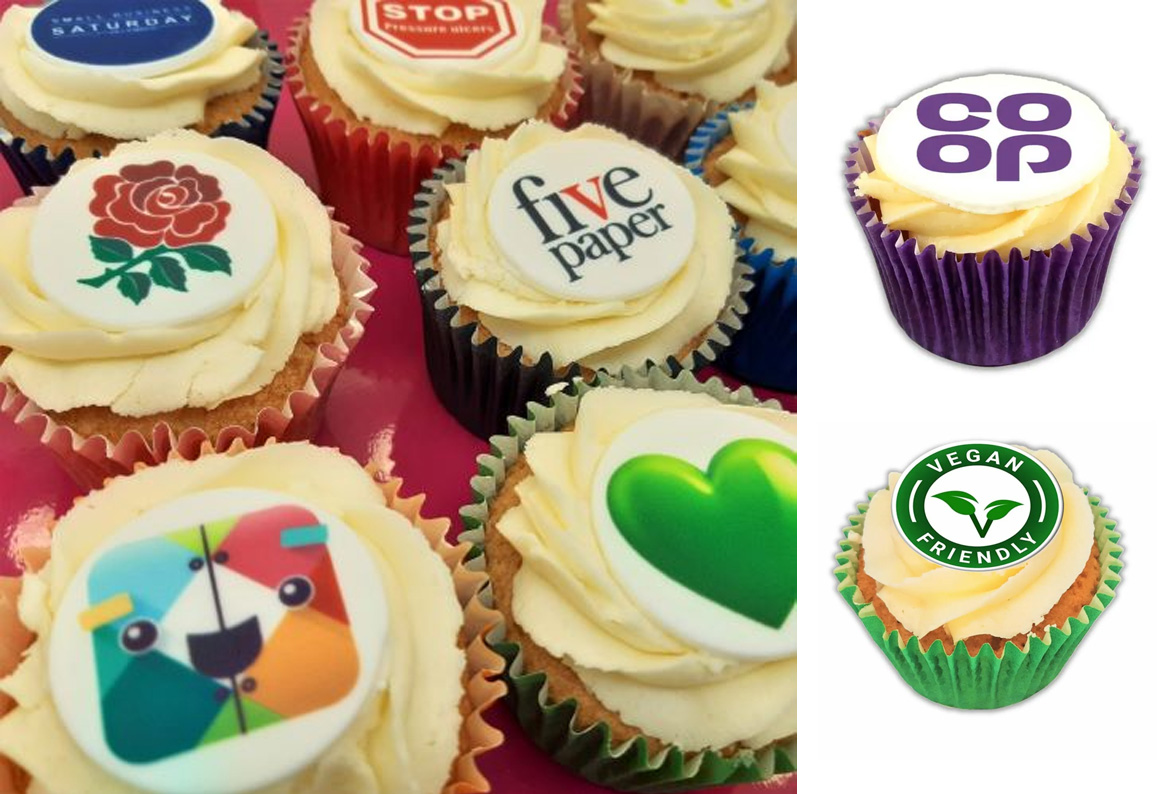 Corporate Cupcakes
Corporate cupcakes are excellent for celebrations, events, or as sweet treat to share in the office. Whether you're looking for celebration cakes, hundreds of branded cupcakes, brownies with your logo or custom biscuits, we can help.
Can I get cupcakes with our corporate logo?
The short answer is yes, you can. We can even match the colour of your cupcake cases to the colour of your brand. For example, if your logo is blue and white, why not go for a blue cupcake case?
Can corporate cupcakes be delivered in the post?
Yes, we can deliver to 1 UK address in bulk. Alternatively, if you are hosting a virtual event or want to send something to homeworking staff, we have a range of letterbox cakes and biscuits. This means no one will miss out when you have a company celebration. You can even reward and motivate staff with a sweet gift regardless of where they are located.
What options are in the branded letterbox range?
We can post to individual addresses in the UK using our letterbox range. This includes shortbread tins, 6 pack of cucpakes, 4 pack of cupcakes, 4 pack of flapjacks, postal cake jars, biscuit decoration packs, 6 giant brownies, pack of 6 brownie bites, Christmas cake, 4 pack doughnuts and more.
What cakes can be branded other than corporate cupcakes?
The cakes available are cupcakes, biscuits, 'free-from' cakes, brownies, large cakes, doughnuts, shortbread, cake jars, cake pops, flapjacks and more. The range is versatile and with all the various options, you can find the perfect sweet treat for your campaign or event.
Should I use corporate cupcakes for company events?
We recommend using corporate cupcakes for company events as exhibitors and attendees usually can't resist to try one! People often love to take them home as well to family, meaning you get even more brand exposure.
Can I dual-brand cupcakes with two logos?
Of course! The branding area on cupcakes is generous, so you can use two logos if you are supporting another businesses event or sending them gifts. This applies to other items in the branded cake range where there is a large branding area.
What are the lead-times for branded cakes?
As the cake range is so varied and they are cooked from scratch, lead-times differ. We must consider the product and the size of the order. However, we can usually accommodate to most requests and timescales.
If you would like to discuss corporate cupcakes or other sweet treats, click here to get in touch. Full contact details are available on this page.