Branded Swag Boxes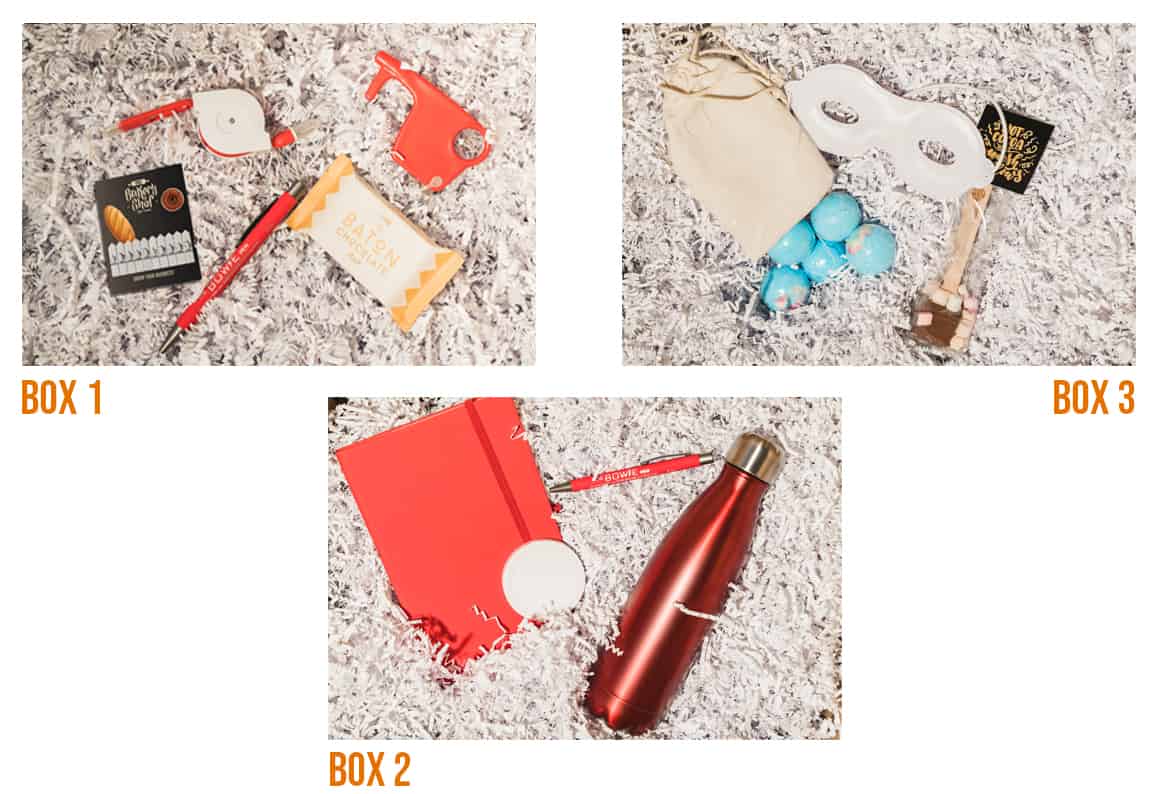 Branded Swag Boxes
New to our range are our branded swag boxes. In short, these are a box filled with merchandise featuring your logo plus personalisation if you wish. These boxes can also include a branded letter with your message. Plus, an optional branded sticker to go on the exterior of the box.
What are the benefits of these branded swag boxes?
It can often be hard to boost morale and these swag boxes are the ideal way to show your team that you care. Plus, we can help ship these to individual home addresses, what a treat to open the front door to!
We know having so many ideas can make it hard to pick the perfect branded gifts. With our pre-selected swag boxes and our pick 'n' mix version, we take the stress away out of the decision making.
They are versatile! They can be made to fit any promotion or message you are trying to deliver. For instance, one of our boxes would be ideal for self-care while another would be great for working from home.
Why should my brand use swag boxes?
Do you have new starters joining your team? A box of personalised gifts is a great way to give a warm welcome on their first day of their onboarding process. It will make them feel appreciated from the get-go.
You may have virtual calls as a team while working from home. You could treat them to a gift to open ahead of, or on the call.
If you have a customer loyalty scheme, a swag box is a great way to say thanks for their repeat custom! You could even add their individual names to provide the finishing touch and make the gifts more likely to be kept.
Trying to find a way to WOW your prospect customers? Did you know, 83% of people have purchased from a company that gave them a promotional gift!
We like to keep the environment at heart. Some of the products in our pick 'n' mix and standard swag box range do have eco-credentials. Throughout our presentation, any items that can be recycled, is sustainable, can be reused or is made from eco-friendly materials will be marked with a green leaf. Plus, any shredded card (sizzle) and the box itself can be recycled.
How does it work?
For the full presentation, please contact us on sales@firebrandpromotions.co.uk and we can send you a copy. A sneak peak of the boxes is in the photo at the top of this blog post!
We have 3 boxes which are pre-made to choose from. However, if you want to add to the pre-made boxes, we can do that! Alternatively, we have a pre-selected range that will fit within the box, this is called our pick 'n' mix Swag Box. The merchandise options that can go into the pick 'n' mix box are shown throughout the presentation.
Your box will be packed with sizzle in a colour of your choice. You may want to pick a colour sizzle that suits your brand.
The exciting bit happens next, your box will then be filled with your branded products in our warehouse. We can add a letter as well if you wish. Lastly, our team will prepare them to be shipped to the list of addresses that you have collated.
Finally, your recipients will receive a branded gift box much to their surprise! Making them feel appreciated and thought of. Plus, every time they use their products after, your brand will be remembered.
If you would like a copy of the presentation, please contact us on sales@firebrandpromotions.co.uk and we will send you our swag box document. To find all our contact details, please click here.
We now have the branded swag boxes available to view on our product page! Click here to explore the range.