Branded Solar Powerbanks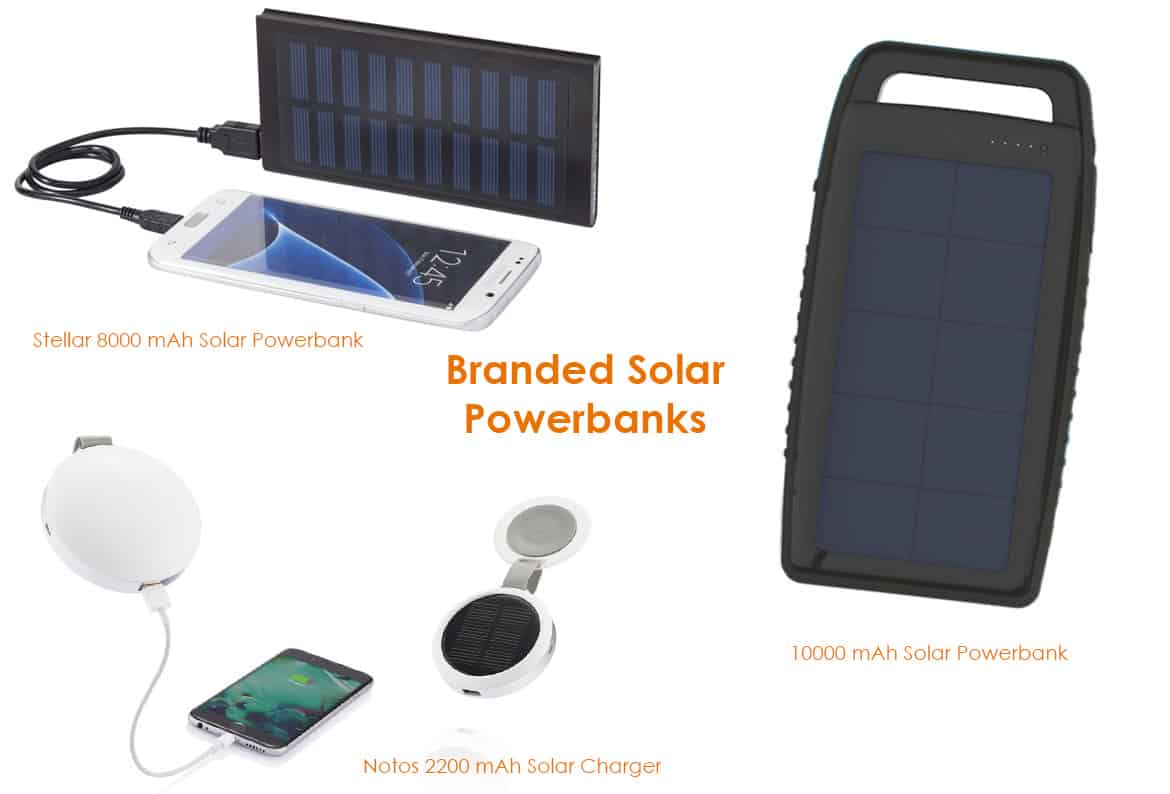 Branded Solar Powerbanks
Battery anxiety can be a frustrating thing. Using your phone to the point when you receive battery warnings can leave you in need of a powerbank when you're out and about. Fortunately, our range of branded solar Powerbanks can help to cure the panic over no battery and promote your brand at the same time.
Our solar Powerbanks employ solar energy straight from sunlight and convert it into electricity. So, whether you're powerbank recipient is out at a festival, fishing or relaxing on a sunny day, they can add power to their powerbank without having to plug it in.
Branded solar Powerbanks are energy-efficient and economical devices that make a worthwhile promotional gift. There are many benefits to the solar Powerbanks and how your brand will make a return on investment on these.
No charge for electrical input. For as long as you charge using solar, your recipients won't encounter any additional costs. However, on most of our range, you can charge using electricity if you need to!
For as long as you have access to sunlight, these can be used anywhere!
They're a versatile product that can charge any device
Every time a branded solar powerbank is used, the user will be reminded of your brand… Did you know? 83% of those who have received a promotional gift, have gone onto purchasing from that very same company!
We have various solar powerbanks to suit your brands needs. Whether you're after a low or high mAh or one that is compact or big in size, we can help. Here are a couple of our favourites…
Notos 2200 mAh Solar Charger
The Notos is a compact solar powerbank with a solid aluminium ring. It can be opened and attached to any window with a simple twist to collect solar energy. The powerbank provides a 2200 mAh capacity.
10,000 mAh Solar Powerbank
Our powerful solar charger has a top quality 10,000 mAh internal battery. It's ideal for charging multiple phones and tablets. The high-grade solar cells allow for a quick recharge via solar energy or via micro USB power if the sun is not shining on you. This powerbank is also available with different mAh sizes.
Stellar 8000 mAh Solar Powerbank
The Stellar includes an 8000 mAh battery. This powerbank also includes a LED flashlight that can be turned on and off as required. The powerbank allows you to charge two items simultaneously. There are also 4 LED indicators to show the remaining battery capacity in the powerbank. The powerbank can be charged by the sun or by electricity.
So, if your brand wants to help take care of the environment, please consider solar Powerbanks. They're a great alternative to electricity that help to reduce the reliance on fossil fuels. If you'd like to discuss branded solar Powerbanks with a member of our sales team, please click here to find our contact details or message our live chat!