Branded Postal Gift Boxes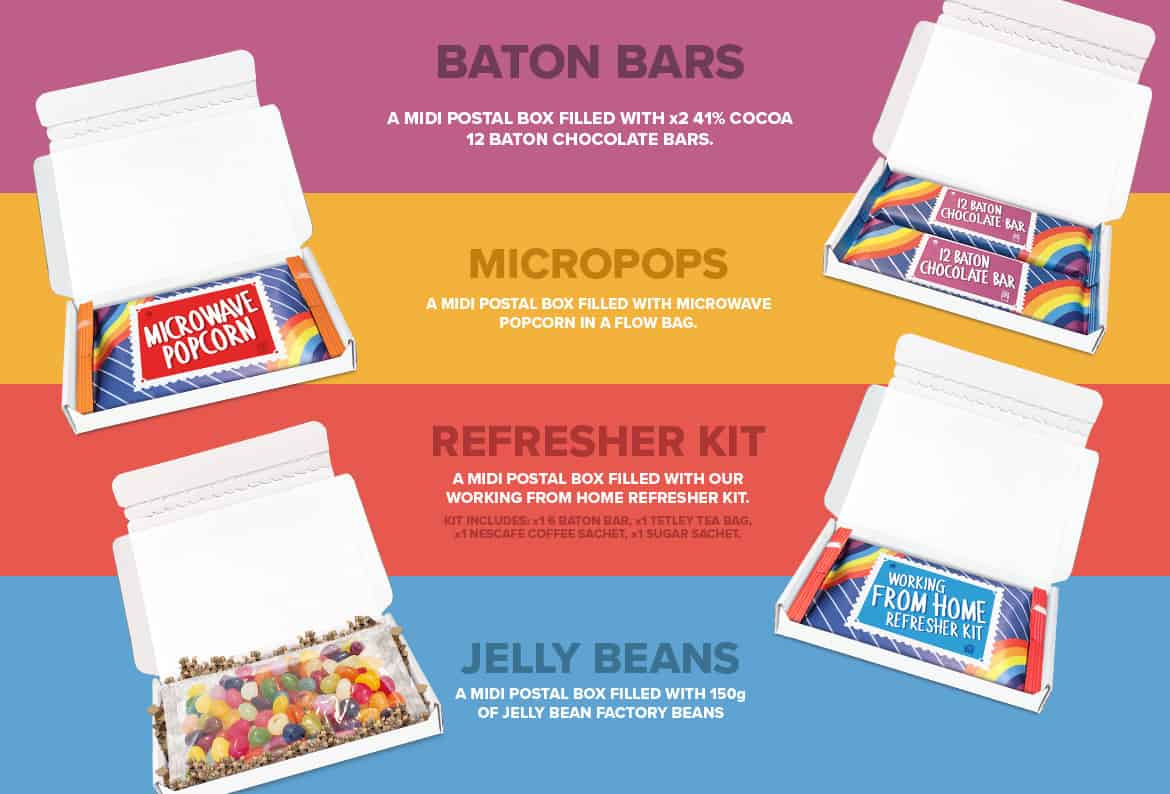 Branded Postal Gift Boxes
During lockdown, a pick-me-up is always a lovely thing to receive. Whether it's a gift for an occasion, a morale boosting exercise or just to make someone smile, our branded postal gift boxes are the excellent solution!
We also understand many brands are taking their events online during the pandemic. These make an excellent welcome branded postal item to send to registrants of your webinars to say thank you.
Our postal packs can be posted straight through your recipient door due to their compact size.
We have a variety of filling options available; these include…
Jelly Beans in a Flow Bag. These bags are ideal for a digital print that allow you to get creative with your message and design. However, if you'd prefer a clear Flow Bag with a printed label, these are also available.
Large Refresher Pack. These come filled with 1x Tetley Tea Bag, 1x Nescafé Coffee Sachet, 1x Sugar Sachet and 1x 6 Baton Chocolate Bar. The branding is available with a full colour message and design or a printed label.
Microwave Popcorn. These come in a packet with a paper printed label. However, if you order over 250 of these postal boxes, our digital print bags are available. The digital printing method allow you to get expressive with your message and design.
Two 12 Baton Chocolate Bars. The perfect gift for those with a sweet tooth. Made with 41% cocoa. These bars come wrapped in clear eco-friendly film and are branded with a paper printed sticker. When you order 250 or more of this filling for you branded postal gift boxes, the chocolate can be wrapped in film that can be digitally printed for you to get creative.
We also offer the option for you to send out Jolly Beans dispensers in the post too! These come with a dome label to the top of the dispenser for your marketing message or logo.
If you would like to discuss the branded postal gift boxes further with a member of our team, please click here.