Branded PLA Products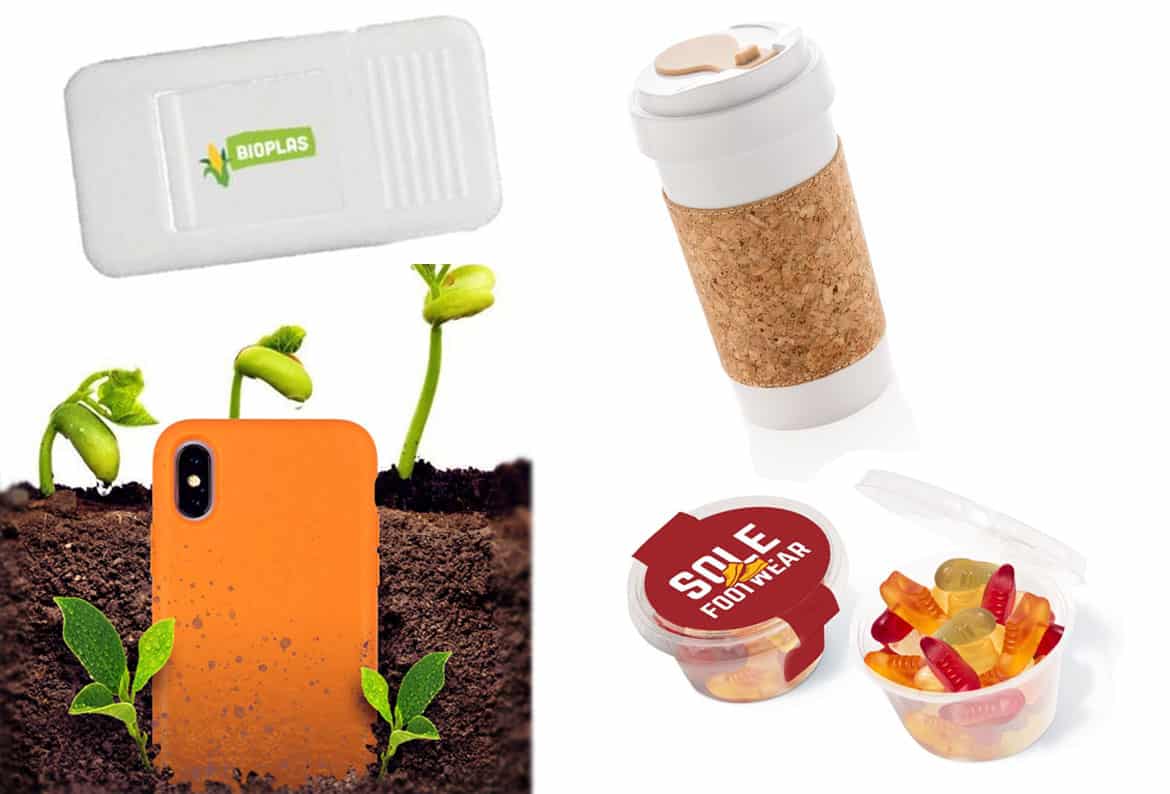 Branded PLA Products
Polylactic Acid (PLA) comes from renewable resources like corn starch or sugar cane. Many of our merchandise options are now available in PLA material. Alongside the benefits of PLA, we're also going to share some of our popular branded PLA products in this blog post.
Whilst being biodegradable, PLA has several other benefits such as…
As many plastics are made from oil and natural gas, these fossil resources will eventually run out. However, due to PLA being derived from corn, this is a resource that can be renewed annually.
PLA plastics are compostable. It can break down into natural elements in compost facilities unlike traditional plastics that can take centuries to break down and may never break down into natural elements.
If incinerated, PLA doesn't produce toxic fumes unlike traditional plastics if they are to be burnt.
Biodegradable Phone Case
Our fully biodegradable phone cases are made entirely from wheat straw. Bioplastic is produced from bacteria that is fed with sugars derived from wheat straw, with the cellulose fibres from the same residue being used to provide the necessary rigidity to be used to make phone cases. These can be colour matched and printed with your brand's logo.
Bioplastic Webcam Cover
One of our most popular safety products, the webcam cover, is now available in bioplastic! An entirely biodegradable material made from corn starch, sugar cane and castor oil. The bioplastic webcam covers are a neat and practical way of protecting your privacy. Complete with sliding section so you can slide open when you want to use your web cam and slide close for security. This product comes on a custom printed backing card as standard offering a massive branding area in order to deliver your marketing message.
Eco Pots
Our eco pots are available in mini, midi and maxi sizes. They can be filled with your choice of sweet treats or savoury snacks. We can brand these eco pots with a full colour paper wrap to deliver your marketing message. The pots themselves are made from plant-based materials rather than plastic. So, once the treat inside has been enjoyed, the pot can be disposed of in a commercial food waste recycling bin to compost.
Eco PLA Can with Cork Sleeve
An Eco mug made form PLA. Each can is BPA-free with no toxic chemicals or plastics. They're reusable as well as compostable when the can is no longer needed. This can is truly sustainable and safe for those who care about their health and the environment. This 400ml Eco PLA Can is microwave and dishwasher safe.
If you'd like to discuss branded PLA products for your next promotion, please click here to find our contact details and get in touch. Or, message our live chat!