Branded Merchandise for Virtual Conferences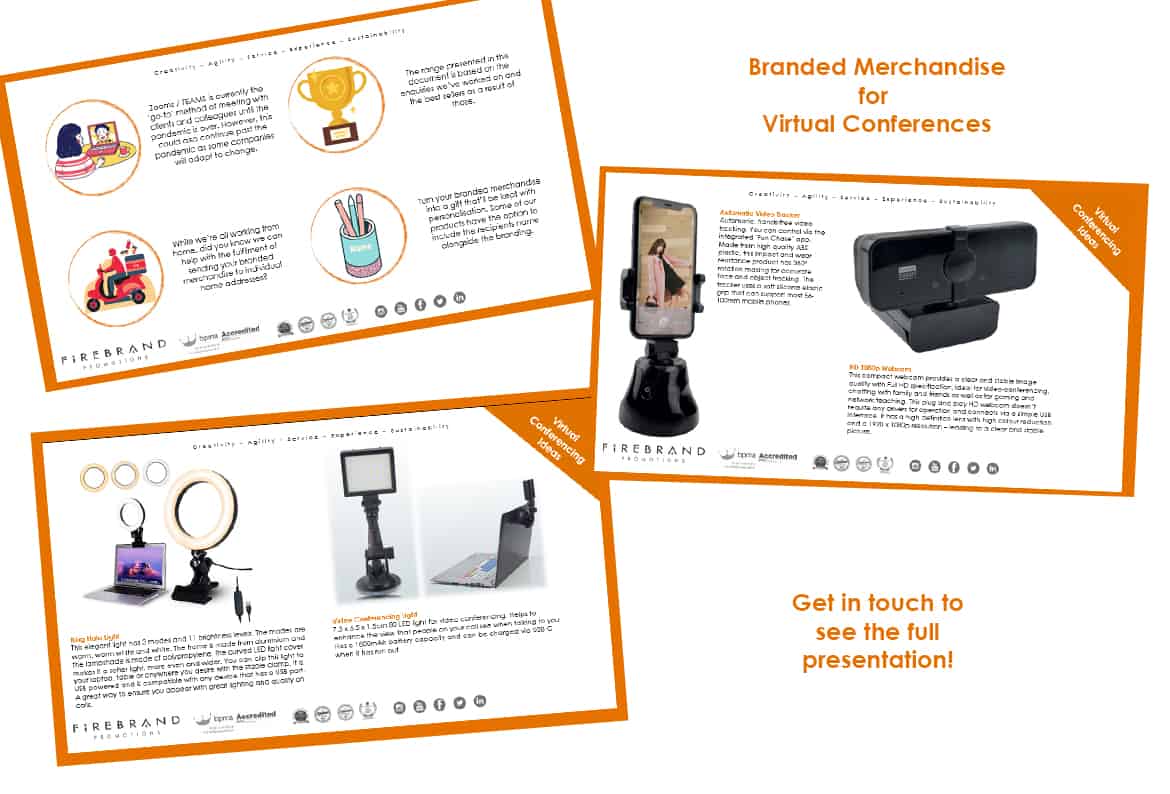 Branded Merchandise for Virtual Conferences
Since the pandemic started over a year ago, Zoom and TEAMS calls fast became the 'go-to' method to meet with clients and colleagues. While we cannot wait to get back to face to face meetings, we know that virtual will continue past the pandemic as many companies adapt to change. Therefore, we made a document to share with our clients which is full of Branded Merchandise for Virtual Conferences ideas. If you would like a copy of this document, please email sales@firebrandpromotions.co.uk and we can send you one.
In short, some of the product areas we shared in our presentation were
Lighting,
Webcams,
Headsets,
Stationery & Drinkware,
Gifts that can be sent to individual home addresses
& many more accessories
Lighting
Have you ever attended another company's virtual event and their lighting comes across slightly dark? We can help ensure this does not happen to you when you are presenting. We have two lighting options available: a ring light and an LED light USB-C light.
Webcams
Some laptops and computers are not fitted with a webcam or you may want a better quality one to ensure you are not coming across blurry or pixelated to others. We have a USB plug in webcam in our range or a dock for you to put your phone in which automatically traces you.
Headsets
Avoid any echoing with a headset or a plug-in microphone. With branding on the ear, your logo will not be missed, giving you low-cost branding impressions throughout your call! Plus, you will look organised and prepared for your virtual event.
Stationery & Drinkware
While they are not enhancing the quality of any video call, stationery and drinkware is often picked up and used by any video caller. Make sure your brand comes across professional with matching and branded stationery and drinkware on the camera. Each time you take a sip of your coffee on a video call, at least one other user is sure to see your logo on your mug!
Gifts
You may want a creative way to invite your attendees to your virtual conference or give them something to open on the call. We can help with sourcing, branding and fulfilment to individual addresses.
Have you thought about personalisation? When a recipient receives a gift with their name on, they are more likely going to want to keep it due to the personal feel they get. Many of our gifts and products can be personalised with someone's name alongside your logo.
If you would like to discuss any of our branded merchandise for virtual conferences ideas further, or to see our presentation, please get in touch with us. Our contact details can be found on this page, or our email address is as at the top of our blog post.