Branded Easter Eggs & Gifts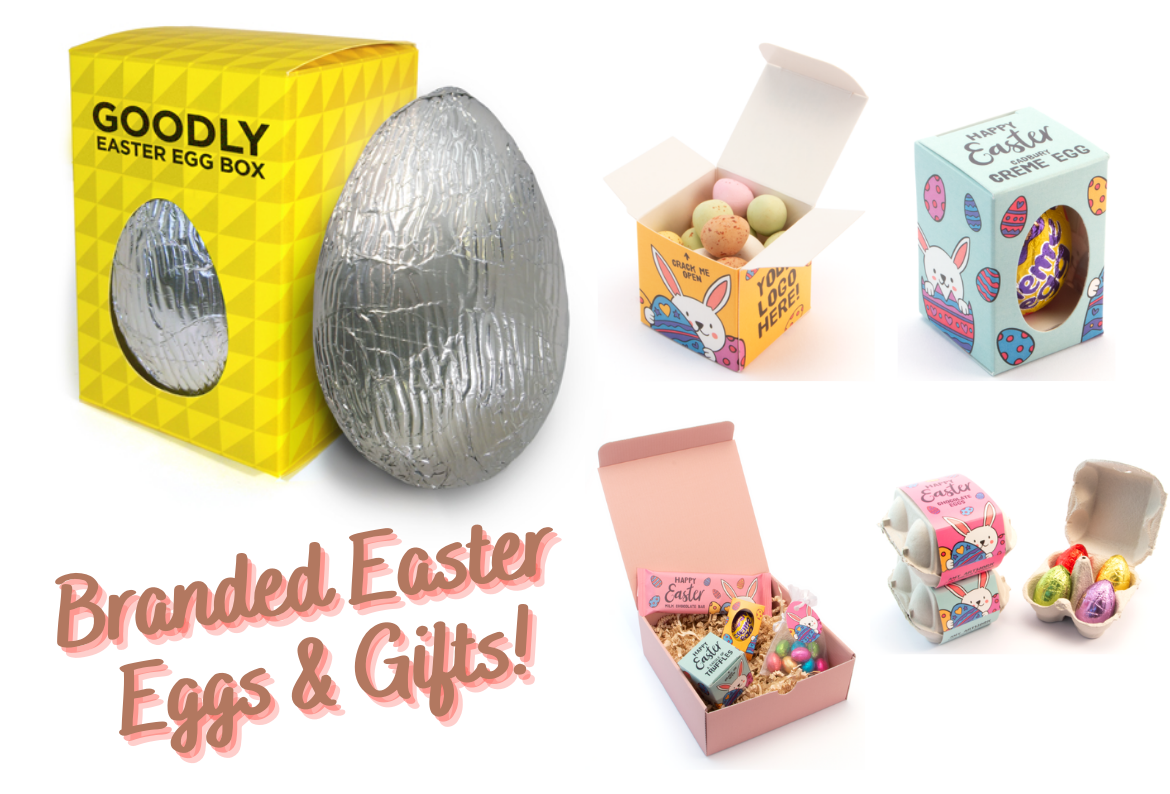 Each year we release a new Easter Confectionery range. However, one item that we have year on year are our Branded Easter Eggs.
Branded Easter Eggs
The Milk Chocolate Promotional Easter Eggs are a hollow chocolate egg which is foil wrapped and packed in a full colour print box. It has an egg shaped window, just like the eggs you typically see in retail! You can make a great impression with your employees or customers when you give them a promotional gift. Plus, confectionery always gets a great response! The design, egg size or packaging may change each year but we will have Branded Easter Eggs available.
New for 2022 in our Easter Confectionery Gift range are our hollow Easter eggs in a branded egg box, our Creme Eggs in a mini branded box, a maxi cube of mini speckled eggs and our Easter midi gift box, plus much more. However, you can always see our latest confectionery items by clicking here.
Hollow Easter Eggs in a Branded Egg Box

Made in the UK and presented in a digitally printed Eco Egg Carton, this makes an excellent Easter gift. This box is plastic free and sustainably sourced. After your customer or employee has enjoyed the chocolate inside, the box can be recycled or composted.
Crème Eggs in a Mini Branded Box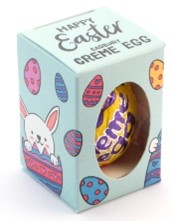 Is there anything more iconic at Easter than this gooey retro classic? For almost 60 years, this thick chocolate, fondant-filled classic has been eaten in a multitude of silly ways. This branded Easter gift is a single Cadbury's Crème Egg which is presented in a plastic free, cardboard mini egg box which can be printed full colour on all sides. The box has been made and packaged in the UK with sustainable materials. It can be easily composted or recycled.
Maxi Cube of Mini Speckled Eggs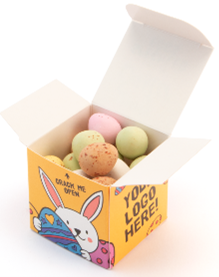 Nestled inside this eco-cube are a collection of speckled eggs. These make an excellent little Easter treat. They have a delicate sugar shell and solid chocolate filling that makes them so moreish. Our sustainably sourced eco-cube in the Maxi size is filled with 82g of these eggs. The cube can be branded on every side in full colour to feature your Easter marketing design. Once empty, the Maxi Cube can be composted or recycled.
Easter Midi Gift Box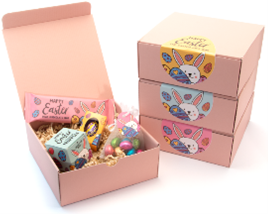 Put all your eggs in one basket with this Easter crowd pleaser! Inside our ultimate chocolate gift box is a nest full of Easter favourites including 1 Cadbury's Crème Egg, 8 foil-wrapped chocolate eggs, 6 luxury chocolate truffles and 12 chocolate baton bars. It's the perfect sweet treat for clients, colleagues, and customers.
Each treat inside the box can be personalised with full colour digital printing. Plus, the box can have a sticker. Our sustainable packaging can then be recycled or reused after all the chocolatey contents have been devoured.
Other branded Easter gifts…
Easter Hot Chocolate Spoon with an Info Card
Cream n Crunch Eggs in a Maxi Cube
Eco Treat Box with Chocolate Bunnies
Easter egg shaped Seedsticks
If you would like a quote or to discuss branded Easter eggs or gifts for your brand, click here.