Branded Christmas Confectionery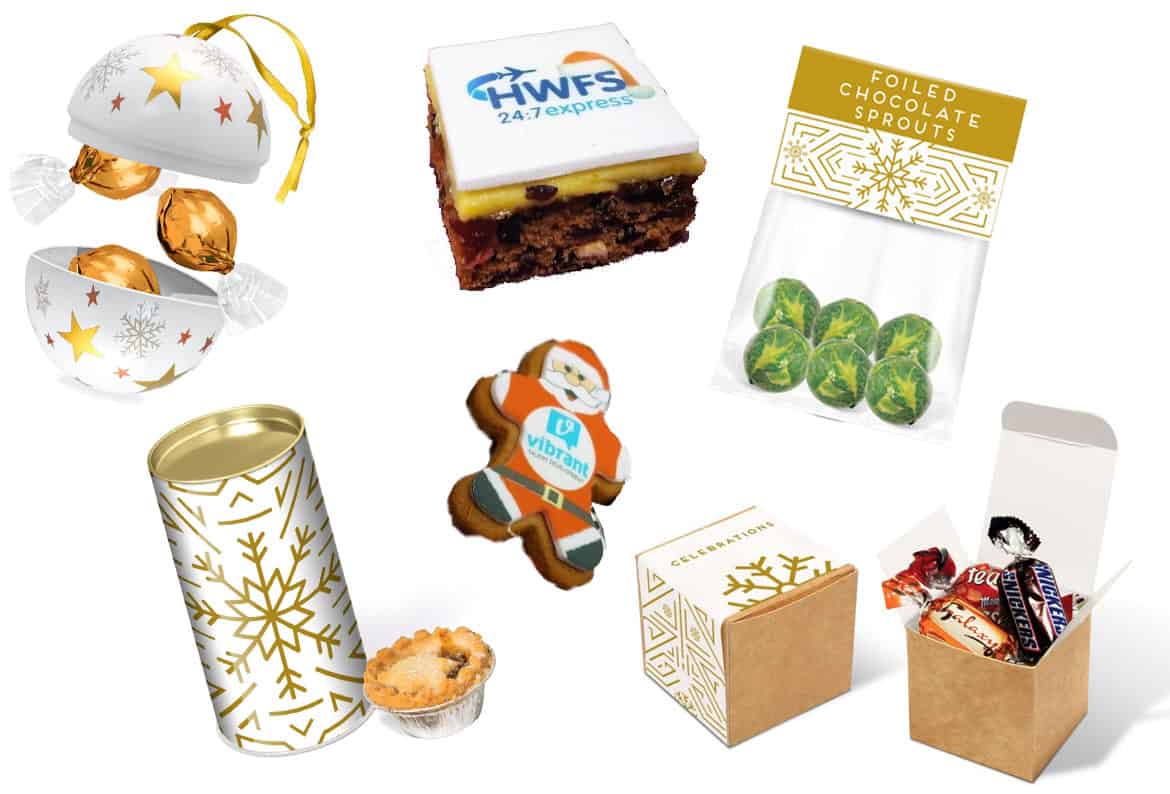 Branded Christmas Confectionery
If you're looking for branded Christmas gifts for clients this festive season, why not opt for sweets, cookies or cakes? Branded Christmas confectionery like general confectionery products are the way to satisfy any sweet tooth. Whilst we have an extensive range of options, these are some of our favourites…
Mince Pies in a Snack Tube
These are a large snack tube filled with mini buttered mince pies. The tube is branded with a full colour domed label to the lid and a cast-gloss board wrap to the tube. The mince pies themselves can't be branded. Our Snack Tubes are also available with many other fillings and come in various other sizes.
We can also supply mince pies with your logo directly on top of the pie with edible icing. These make excellent branded gifts for events. Every year, we have limited availability on our logo mince pies so our snack tube mince pies may be a better option for those tight deadlines!
Santa Shortbread
Our shortbread can be printed with full colour CMYK using edible ink onto icing. The Santa cookies make excellent gifts and have a 2 month shelf life.
Our factory can make almost any shape as long as it's dimensions are not larger than 8cm square. The matching shaped ice topper will be printed with any logo and image.
Christmas Cake Bikes
5cm squares packed in packs of 6, our Christmas Cake Bites are fruit and nut fruit cakes. They're topped with full colour CMYK using edible ink onto icing. The image on top will stay at its best for 3 days from delivery when individually wrapped, although the product will remain good to eat for four weeks.
We also have limited edition chocolate orange brownie bites available!
Eco Info Card with Chocolate Brussel Sprouts
We can supply Chocolates foiled with a brussel sprout design are available in many packaging options. Our favourite this festive season is the eco bag. The eco bags are also available with many other fillings. These are branded with a full colour card attached to the top of the bag.
The clear film is made from PLA, a plant-based material which makes it 100% plastic free and it's also compostable! Plus, the branded card can be recycled. So if you want to give away an eco-friendly gift this festive season, our eco info cards are an excellent option.
Eco Kraft Cube with Celebrations
Celebrations are undoubtedly one of the most popular chocolate gifts at Christmas. Your brand can give away Celebrations in an eco Kraft cube!
The Kraft Cube is fully recyclable and is also available with many other fillings, including ones that aren't festive! The cube can be branded with a full colour paper wrap to the outside of the cube so you can get your festive marketing message across with impact.
Bauble Tin with Champagne Chocolate Truffles
Our festive bauble tin is filled with three gift wrapped white champagne chocolate truffles. It's branded with a fold out tag that can be personalised on the front and the inside.
The bauble can then double up as a reusable decoration for your client's Christmas tree to use in the office or at home!
We also have many other branded Christmas confectionery items available, perfect for gifting this season. Such as gingerbread, walnut whirls, Lindt Santa's and balls, cupcakes, logo cake pops and many more! If you'd like to discuss branded client Christmas gifts for your seasonal promotion, please contact us!