Branded Bamboo Products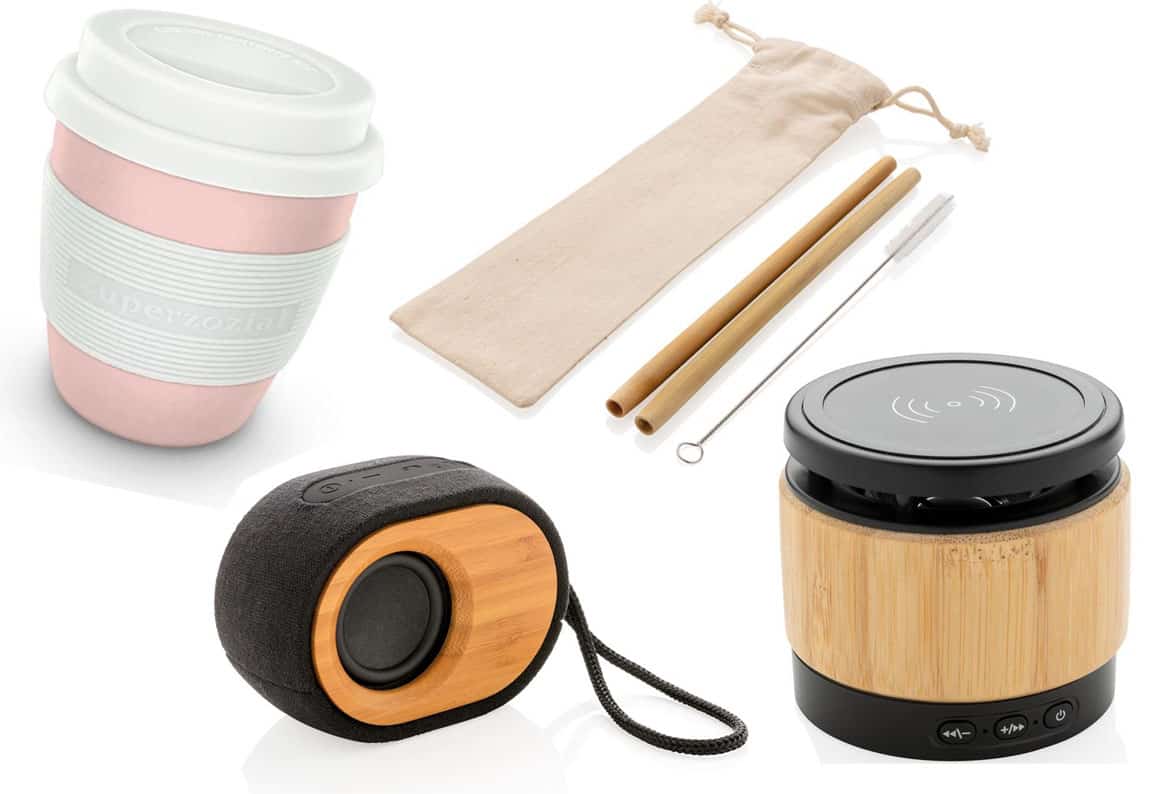 Branded Bamboo Products
Bamboo is one of the world's fastest-growing plants and can reach maturity in circa four years, which is a lot faster than most other tree types. Bamboo naturally replenishes itself and can grow to heights of 50 feet or more. Some Bamboo species can grow up to 4 feet per day and can be harvested every 3 to 4 years. So, as a result of this, Bamboo is one of nature's most sustainable resources since it's naturally regenerative. Therefore, many of our eco-friendly merchandise options are now made of Bamboo. In this article, alongside the benefits of Bamboo, we're also going to share some of our most popular and latest branded Bamboo products.
Bamboo has many remarkable characteristics, such as:
Softness – softer than most cotton, Bamboo fabric has a natural sheen to the surface and feels like silk or cashmere.
Comfortable – Bamboo fabrics stay 2-3 degrees cooler in hot temperatures and warmer in cold temperatures than cotton. Bamboo apparel is thermal regulating, anti-fungal, anti-static and will keep you cooler, drier, warmer and odour free.
Natural and chemical free – Bamboo is grown without using pesticides and chemical fertilisers. Bamboo fibres are 100% biodegradable.
Zuperzozial Mini Travel Mug
Zuperzozial products have a "stone-wear like" finish, a characteristic of the high plant fibre material. The 210ml Mini Travel Mug is made out of 70-80% bamboo fibre and corn starch. Due to the natural material, each mug is slightly unique with slight imperfections in the colour, illustrating the natural materials used in production. The Zuperzozial Mini Travel Mug has a soft silicone lid and grip and is also dish-washer safe.
Reusable Bamboo Straw Set
An ecological alternative to plastic straws are our bamboo straws. The eco-friendly straws can be washed in the dishwasher and reused many times. The biodegradable straws are compostable. They're perfect for hot and cold drinks. These straws also come with a cleaning brush for quick cleaning whilst out and about.
Bamboo Wireless Charger with Speaker
This Eco bamboo charger combines listening to your favourite tunes with charging your phone wirelessly. Simply connect the micro USB to your USB charger at home or in the office and you're ready to go!
It contains a 3W wireless speaker and 5W wireless charger. The speaker has a 400 mAh battery and Bluetooth so you can play music without being connected to power.
Bamboo X Bluetooth Speaker
Natural sound from a natural speaker. This sustainable speaker combines an amazing sound experience with a stylish design made from durable and responsible materials. The casing is made of durable bamboo and fabric made from a blend of 30% organic cotton, 40% hemp and 30% recycled PET. The 5W speaker uses high quality components to guarantee longevity. The 1500 mAh battery will play up to 8 hours on one single charge. It uses Bluetooth for a super smooth connection and has an operating distance up to 10 metres. Packaged in 100% plastic free packaging.
To discuss our branded Bamboo products further, please click here to find our contact details or message our live chat!