15 promotional products to celebrate 15 years!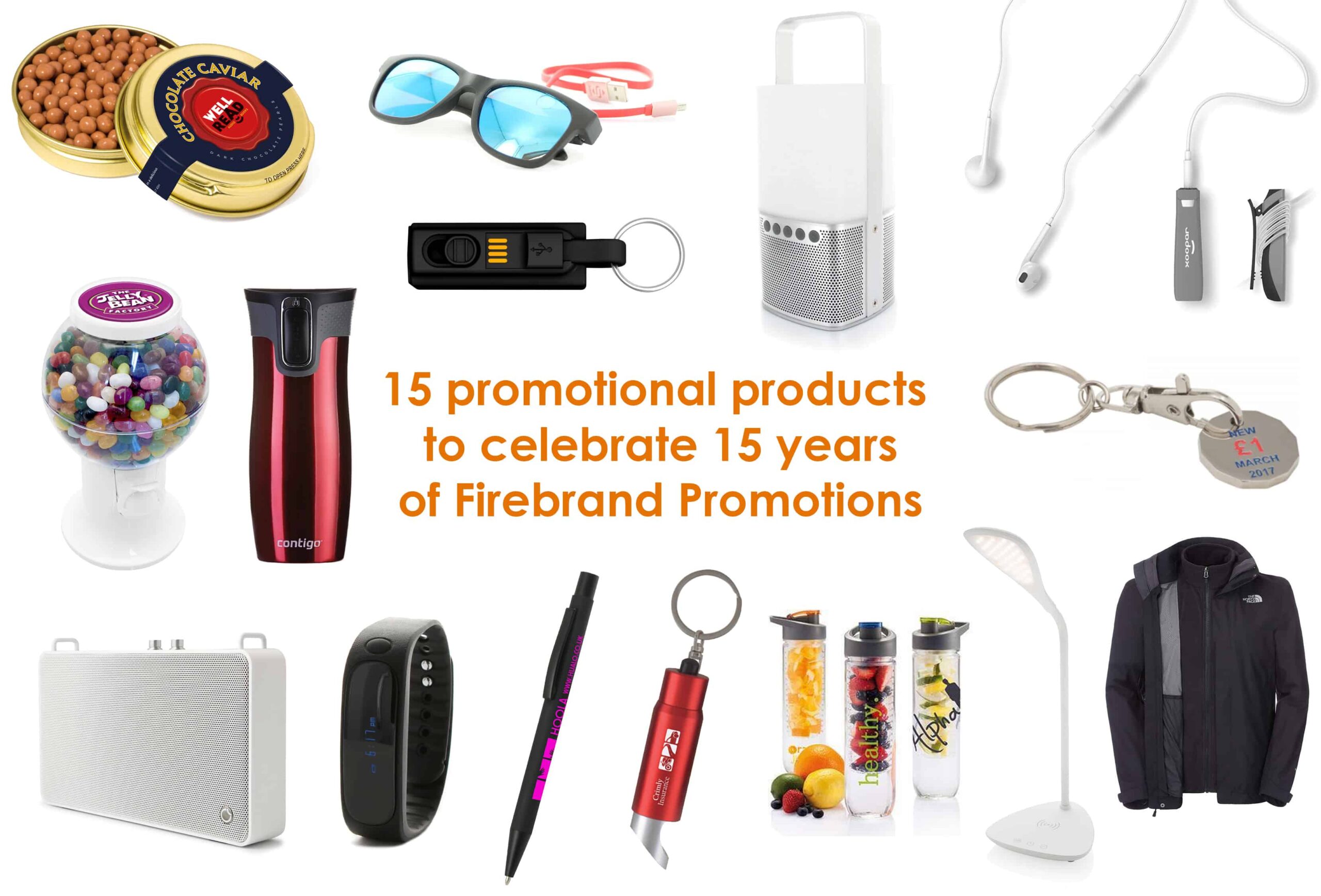 15 Promotional Products To Celebrate 15 Years!
Every October marks another year of Firebrand and this year we're celebrating our 15th birthday! In honour of 15 years, the team have shared their 15 favourite promotional products and why they're great for brands like yours!
Mantis
To summarise, the Mantis is a clever little device that allows you to use your wired earbuds, ear phones or headphones wirelessly with any Bluetooth audio device. It's lightweight and can easily clip onto your jacket, shirt, blouse etc. Linda has selected this as one of her favourite products for the following reasons…
It's a great innovative product which is simple to use.
The branding opportunities on the product offer a good space for printing and will ensure your logo stays in full view when in use.
Smart Power Mini
The Smart Power Mini essentially offers back-up power in a thumb size package. Thanks to the Mini's 2-in-1 reversible Micro USB and Lightning adapter, you can charge most phones on the go! Hayley likes the Smart Power Mini as…
She can easily put it onto her keys when she is out and about and no longer has to worry about her phone running out of battery.
With people using their phones and passing around power banks to friends and family, your brand is definitely going to be noticed!
Bowie Pen
The Bowie Pen is a soft touch pen with contemporary gunmetal trims. It is able to be engraved to reveal a mirror finish or printed with InkJet in full colour to show off your logo. Lauren has selected this product as her one of her favourites as…
It's smooth to write with and comes in a range of vibrant colours. It also comes in an all-black option which looks amazing!
We can even supply this pen as a mechanical pencil or in a set of both pen and pencil.
It's a great pen for brands as it's sleek and stylish and doesn't break the bank!
E5 Alexa Speaker
Connect via Bluetooth, Wi-Fi or AUX to the E5 Alexa Speaker to play your music library or favourite radios. You can add up to 16 devices without disconnecting making it the perfect office or household accessory. Vicky has chosen this as one of her favourite products as…
It's a stylish speaker that allows her to listen to her favourite music.
She can connect it to her Wi-Fi and integrate it with her Amazon Echo so that it can be controlled by her voice.
This speaker would work well for brands as it makes a great gift for corporate customers or an excellent Christmas giveaway.
Your logo can be printed to the side of the speaker or it can be subtly embossed on the strap.
Contigo West Loop Flask
The Contigo West Loop Flask is part of the Contigo drinkware range. It has a stylish ergonomic shape which is combined with exceptional quality. The auto-seal technology makes the mug 100% spill-proof and leak-proof. The mug has a double walled design and vacuum insulated technology to keep drinks warm for up to 4 hours and cold for 12 hours. Crids likes this flask because…
It means she can enjoy tea or coffee on the go.
The branding works well as you can dual brand it with your logo and the Contigo logo which adds value and quality.
Bluetooth Sunglasses
Our Bluetooth Sunglasses are the perfect 2-in-1 combination of bone conduction and Bluetooth technology which allows you to listen to your music without wires and without anyone else hearing it. Becky likes these headphones as…
It allows her to listen to her favourite music and take phone calls.
They are an excellent product for corporate companies.
The North Face Evolution Triclimate II Jacket
The North Face Evolution II Triclimate Jacket is a 3-in-1 jacket which is fully waterproof with a removable fleece that can be worn separately. Crids liked this jacket as…
It keeps her snug and warm during the winter.
She also recommends dual branding your promotional clothing as it creates good brand association and adds value. The North Face jacket looks fantastic with an embroidered logo and can be added to several positions.
Plus, it's an essential for the cold weather!
Trolley Coin Keyring
Whether you're looking for the new style or old style £1 trolley coin keyring, we can supply it. Lydia has selected the new £1 trolley coin keyring as her favourite product as…
It is practical, stylish and is a must-have for when she hasn't got a spare £1 coin.
The '£1' disc clips onto a metal keyring attachment so it's always close to hand.
It also offers a great branding area to help increase your brand exposure.
Trolley Coin Keyrings are great for gyms, supermarkets and are a perfect product to sell on to raise funds for charity!
Lightsounds Premium Bluetooth Speaker
The Lightsounds Premium speaker is a top-quality Bluetooth Speaker with amazing sound and cool, built-in mood lighting. It includes hands-free speaker mode, a microphone and colour changing LED's. Andrew likes this speaker as…
It's perfect for a summers evening around a bonfire or for a barbeque.
The branding areas are excellent and offer a top-quality aluminium trim finish.
Wireless Charging Lamp
The Wireless Charing Lamp is a super bright desk lamp with a 5W Wireless Charging pad in the base. The Wireless Charging is compatible with the latest Android devices as well as iPhone 8, 8+ and X. It also works on previous iPhones too if you insert a wireless charging patch, which we'd be happy to quote for. Ross selected this lamp as…
It's one of his favourite products as it allows him to charge his iPhone 8 without a cable and it has a stylish design.
The lamp itself can be adjusted in 3 modes: natural light, yellow light and white light depending on the situation and preference.
Duvall Torch Keyring
The Duvall Torch Keyring is a multifunction keyring that consists of a LED torch and a silver bottle opener. The torch slides forward to focus the light. Paul likes this product as…
It's easy to attach to your keys so that it's always at hand in case you need either a torch or a bottle opener.
This torch keyring also offers a great branding area and looks stylish when engraved.
Jelly Beans
We can supply Jelly Beans in various containers of shapes and sizes. Whether you're looking for a sweet dispenser, money box tin, cases or bags, we can supply these with your choice of flavoured Jelly Beans. Shaun has chosen the branded Jelly Beans as his favourite product as…
They make him smile!
They also make an excellent giveaway at events and help to increase brand exposure as they're sure to be passed to a friend or family member if the recipient is unable to eat them.
Fit Bracelet
The Fit Bracelet is a water resistant, soft touch, Bluetooth wristband which is worn around the wrist. It has an OLED display and allows the user to monitor activity levels and overall lifestyle. Tony likes the Fit Bracelet as…
It promotes exercise and a healthy lifestyle.
It's an excellent giveaway for key clients or for brands in the health and leisure industry.
Fruit Infuser Water Bottle
The Fruit Infuser Water Bottle features a removeable infuser which allows you to add your favourite fruit flavour into your drink. Mollie selected this as one of her favourite products as…
It allows her to stay hydrated whilst enjoying tastier water.
It's a great product for summer but is also useful all year round.
Caviar Tin
Our Caviar Tins are gold or silver round tins that have been filled with chocolate and/or salted caramel pearls. Hannah selected the Caviar Tin as her favourite product as…
The tin feels and looks high-end and premium making it a great promotional gift to receive.
If you'd like to place an enquiry on any of the products above, please get in touch by clicking here!