Bamboo Cups and Drinkware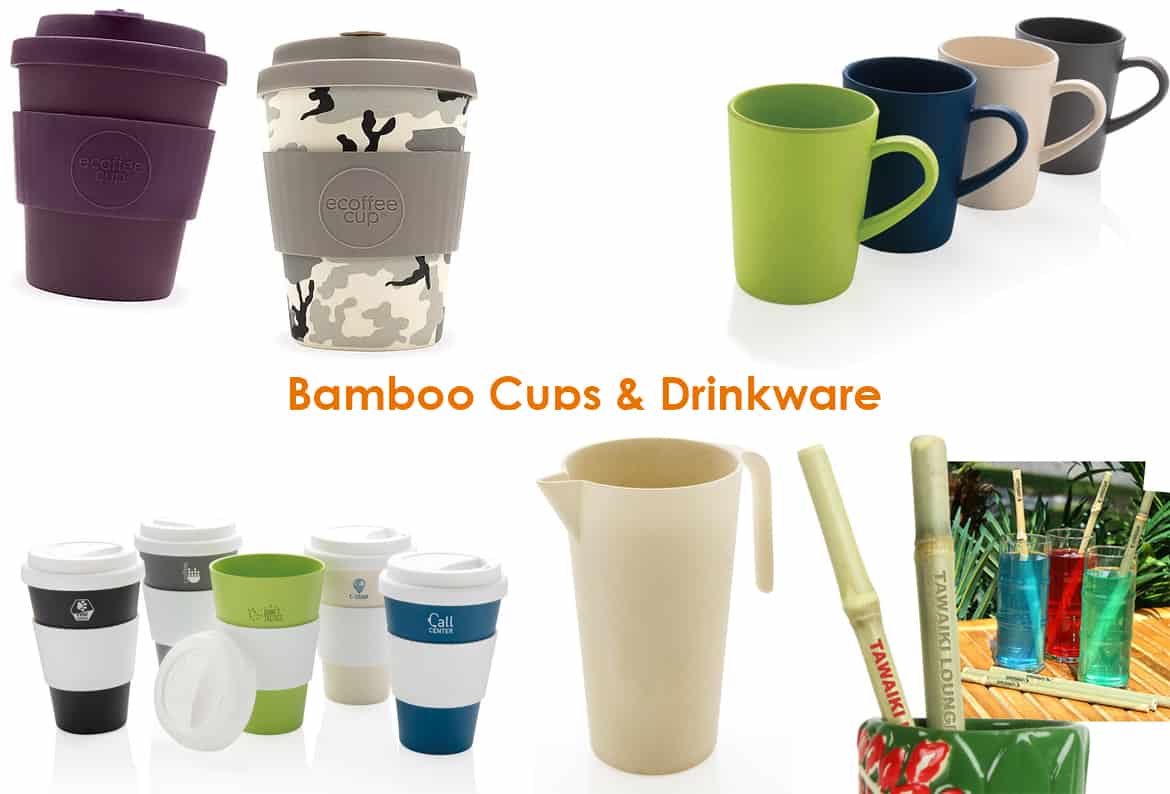 Bamboo Cups and Drinkware
As part of our strategy to improve our merchandise range to be more environmentally conscious, we're using Bamboo in a lot of our products. This includes a range of Bamboo cups and drinkware.
Bamboo is a great material to use in products as it's one of the world's fastest-growing plants and can reach maturity in circa four years, which is a lot faster than most other tree types. Bamboo naturally replenishes itself and can grow to heights of 50 feet or more. Some Bamboo species can grow up to 4 feet per day and can be harvested every 3 to 4 years. So, as a result of this, Bamboo is one of nature's most sustainable resources since it's naturally regenerative.
Bamboo is natural and chemical free. It's grown without using pesticides and chemical fertilisers. Bamboo fibres are 100% biodegradable.
Some of our favourite Bamboo cups and drinkware items are…
The ECoffee Cup
ECoffee Cup is a brand name offering you the opportunity to dual-brand with an environmentally responsible brand. They have a new generation of takeaway cups.
The cups are made with Bamboo fibre and are available in four size choices; 8oz, 12oz, 14oz and the new size is 16oz for those who are really in need of a coffee hit!
The cup is naturally sterile with no plastic after taste. They're light, bright and individually stylish with over 70 designs and colours, there is an ECoffee Cup for everyone. BPA free and Phthalate free, fully dishwasher safe and resealable with a no drip lid.
Eco Bamboo Mug
The Eco Bamboo Mug is an excellent alternative to a china mug or enamel mug. The mug is made from naturally grown organic bamboo fibre making it not only reusable but highly durable.
The mug is BPA free and has 360ml capacity and is excellent for the office, home or even at an outdoor event such as fishing or camping.
Eco Bamboo Fibre Travel Cup
Available in a range of popular colours, our Eco Bamboo Fibre Travel Cups are made from naturally grown organic Bamboo fibre. The cup has a silicone lid and grip.
The cups are free from any harmful synthetic materials and they're reusable and highly durable. The content is 430ml however, there are other similar cups available that are slightly smaller.
Bamboo 1.7L Carafe
If your brand has summer events or you're in need of reusable and sustainable drinkware equipment that will also be considered eco-friendly, then our carafe is an excellent option.
Thick Bamboo Straws
Give your cocktails a tropical touch with the unusual Bamboo straws. Made from sustainable bamboo, these straws offer an eco-friendly alternative to plastic straws, and are both reusable and biodegradable. The Bamboo straws are easy to clean and reuse.
To place an enquiry on Bamboo Cups and Drinkware, please contact our sales team!